5 Star Quality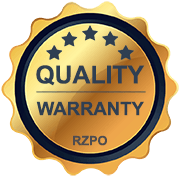 One of the main priorities of the RZPO - Food Processing Equipment Manufacturer is the production of high-quality equipment that surpass their competitors' similar products with their consumer properties. Throughout the production phase, we carry out continuous quality control of the produced food equipment, meat processing and fish processing industries.
  We are proud of the quality of our finished products and provide an extended warranty for the entire line of equipment manufactured under the brand name of RZPO.
RZPO - Food Processing Equipment Manufacturer has its own service department,which is able to quickly arrive to the client facility and carry out emergency repairs of any food equipment. RZPO offers transparent service contracts for the maintenance of your food equipment.
2 years Warranty
The practice of quality control in our company is a culture that interests each activity, resource and function.
A methodology of work that affects each business operations: from the planning to the prototyping, from the purchase of materials to the production of the individual components until the whole product and its posting.
Our equipment always meets the stated criteria and meets the quality standards. All products of the food machinery factory "RZPO" have 2 years warranty, as well as all the necessary certificates for materials.
Quality - First!
If you have any questions please contact our Customer Service Specialist via e-mail and we will respond promptly.
Dear colleagues!
We offer you cooperation with the company "RZPO", dynamically developing company in the market of equipment for  meat, fish, cheese, vegetables, poultry processing.
We guarantee you:
A wide range of the world's best equipment for deep processing of  meat, fish, cheese, vegetables, poultry equipment;
A high level of service. In our company, the number of service engineers more than managers.
The best deals in the ratio "price – quality";
We give 24 months warranty on own equipment and Korean-made.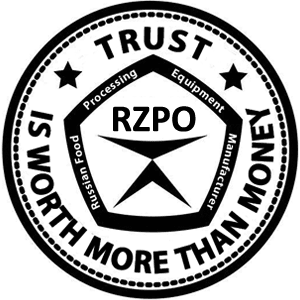 We will be glad to become your permanent partner for the supply of fish, meat and food processing equipment.
Would you like to speak to one of our advisers? Just submit your details and we'll be in touch shortly. You can also email us if you would prefer.
For Businesses: Do you have questions about how RZPO can help your company? Send us an email and we'll get in touch shortly, or phone +8(835)10001246977 between 09:00-23:00 +3 GMT  Monday to Sunday — we would be delighted to speak (by phone English, Bulgarian languages).
Note: Your details are kept strictly confidential as per our Privacy Policy.