Equipment for food production has always been valued by customers, because for the most part it depends on it, whether the end product will like the consumer.
Equipment for the food industry is the backbone of any enterprise in its field, and quality aggregates are the guarantee of first-class products. The constant introduction of innovations in the production process has become a criterion for success for many food brands.
Manufacture of food processing equipment
Recently, the market for equipment for the food industry has changed significantly. The production capacity has grown, domestic and foreign companies have adjusted to the constantly changing tastes of consumers, the quality of products has become an order of magnitude higher. This gave impetus to the growth of the number of small production facilities, farms and led to the re-equipment of equipment in many sectors of the food industry.
In turn, the technological equipment of the food and processing sector and the increase in the number of consumers contributed to the increase in demand for quality, multifunctional equipment for food production.
Equipment for all stages of processing meat, fish, poultry and milk
RZPO together with its international partners supply of equipment for all stages of processing meat, fish, poultry, milk:
Slaughter and poultry processing: acceptance of live poultry, slaughter and evisceration lines of poultry
Cutting of meat and poultry: lines for cutting birds, cutting conveyors and saws
Poultry boning in automatic and semi-automatic mode: machines for boning the breast, thighs, drumstick and the whole leg of a bird
Defrost: Defroster
Department of meat from bones: meat and bone separators and presses
Production of flake ice: ice makers and ice storage systems
Production of delicacies: injectors for meat, fish and poultry, massagers, brine mixers and filter units
Cutting of frozen blocks: block cutters
Сutters, tops, mixers
Portioning, clipping: syringes, clippers
Thermal treatment and smoking: smoking chambers, cooking chambers, intensive cooling chambers, climatic chambers and chambers for drying, chips and sawdust for smoking
Packing: vacuum packers of chamber type, thermoforming machines, tracers
Washing of tare: machines for cleaning boxes and inventory
Sanitary and hygienic equipment: dryers, washing and disinfection
Production of equipment for food industry
The production of equipment for the food industry requires special responsibility and careful approach, since the consumer wants to buy only quality food. Food production should be equipped with the latest technology. This is the only way to achieve maximum automation of the production process and minimal human participation in this process. Thanks to high-quality production of food equipment, the quality of your enterprise's products will always be stable. This ensures stable consumer demand and a stable profit.
The choice of the manufacturer of equipment for the food industry must be weighed and carefully considered. RZPO offers its services in the production of reliable quality food equipment that will last for many years. We have been existing for more than 15 years and during this time we have grown into a large company, known not only in Russia, but also abroad. Among our customers there are large and small food industries that already know about all the advantages of ordering food equipment production from us.
Why do successful companies choose RZPO?
Our company has become a respected and recognizable manufacturer of equipment for the food industry due to a number of advantages. Among them, the most important is that we carry out a full cycle of production of food equipment, starting with acquaintance with your enterprise and designing the equipment and ending with its installation and further maintenance. We provide:
Experienced engineers who work in our design office. A properly designed project is a guarantee of quality and reliable equipment for your production. We are always ready to offer standard options or create an individual project.
The production of equipment for the food industry is carried out directly on the territory of RZPO. This allows us to control every stage of creating equipment for your enterprise.
The specialists of the company will install the equipment in accordance with all norms. In addition, we offer maintenance equipment.
RZPO carries out production of any equipment for the food industry: industrial cold, packaging equipment, capacitive equipment, ventilation systems, washer-washing stations for cleaning equipment and any non-standard equipment.
You will be pleasantly surprised by the prices for the production of food equipment in RZPO. Since we work without intermediaries, and we purchase materials directly from the manufacturer at wholesale prices, our prices are always liked by customers. In addition, with us you can buy equipment in leasing.
Summary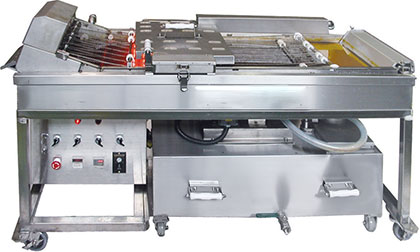 Brand Name
Product Name
Food processing Equipment