We do not stand still. The assortment of food equipment is constantly replenished and modernized, meeting modern requirements. Thanks to contemporary technologies and partners with whom we work, the process of processing and manufacturing products will take a minimum of time at maximum productivity.
Food Processing Equipment Manufacturer (RZPO) will ensure the delivery and launch of its products with subsequent training of personnel, as well as the maintenance of your equipment.
We guarantee you the best equipment and the highest level of service.
Our Vision
RZPO – Food Processing Equipment Manufacturer — the company with the constant expansion of geographical presence. Our company — is a reliable partner for cooperation and a preferred employer for everyone who share our values, a close-knit team of professionals strives to be a leader in a constantly changing world.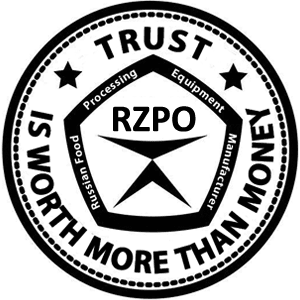 Dear colleagues!
We offer you cooperation with the company "RZPO", dynamically developing company in the market of equipment for  meat, fish, cheese, vegetables, poultry processing.
We guarantee you:
A wide range of the world's best equipment for deep processing of  meat, fish, cheese, vegetables, poultry equipment;
A high level of service. In our company, the number of service engineers more than managers.
The best deals in the ratio "price – quality";
We give 24 months warranty on own equipment and Korean-made.
In the segment of heat treatment equipment, we offer the equipment of our production, on the basis of the experience gained since July 2014 our company opened its production. Nowadays on many fish factories and meat processing plants operate our equipment: smoking chambers, climatic chambers for cold smoked sausages, salt concentration (salt mixer) and manual injectors and more equipment made from stainless steel.
In the photo on the right, smoked mackerel made in Arzamas city.
For example, for smoking-cooking chambers: cold smoking of mackerel within 6 hours if the level of thermal losses of 3-5 %. The difference in loss of 4% (versus often available in the market cameras) will give you an additional up to 9 kg on each frame mackerel. Up to 36 kg per day, or 13.14 tons per year of ADDITIONAL production. Put these figures in selling prices for mackerel in your area and get the economic benefit from the use of our cameras. Against old camera models – the difference to be even more significant.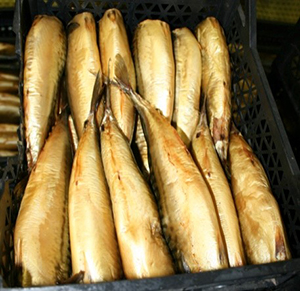 OUR KNOW-HOW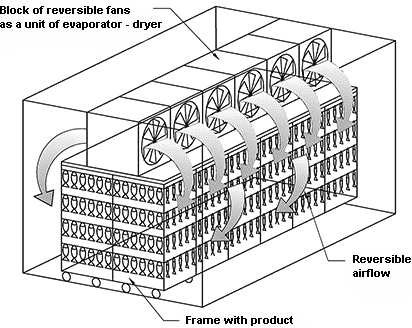 KNOW-HOW of our plant is drying fish equipment class UVR 3 that allows for the shortest possible time to dry any species of fish while consuming a minimum number of energy (around 0.8 kW per 1 kg of finished product). Time of drying small species of fish: roach, sabrefish, rudd and others – not more than 3 days (regardless of season and weather). It is possible to work in 2 modes – drying (removing moisture from air) and fish drying with the use of the principle of "heat pump" – with automatic self-regulation process, without temper, with the effective removal of moisture.
Universal drying fish equipment with horizontal air supply can dry fish in a vertical hanging as well as a fillet or small things on the leaves (grids). This ensures uniformity of drying (dehydration) at all points inside the chamber width, height and depth.
The main difference from the many drying chambers on the market is the high efficiency at the process of fish drying. On 1 kg of finished dried products electricity consumption is obtained in the range of 0.6 – 0.8 kW. It can be used instead of electricity as the heating element: reverse freon, steam or hot water. Frequency control of fans and automatic remote software make the drying process easy and controllable.
We will be glad to become your permanent partner for the supply of fish, meat and food processing equipment.
Argentina
,
Albania
,
Algeria
,
Armenia
,
Australia
,
Austria
,
Azerbaijan
,
Bahrain
,
Belarus
,
Belgium
,
Bolivia
,
Bosnia and Herzegovina
,
Brazil
,
Bulgaria
,
Cambodia
,
Canada
,
China
,
Colombia
,
Costa Rica
,
Cuba
,
Cyprus
,
Denmark
,
Dominican Republic
,
Egypt
,
Georgia
,
Germany
,
Greece
,
Greenland
,
Grenada
,
Guatemala
,
Hong Kong
,
Hungary
,
Iceland
,
India
,
Indonesia
,
Iran
,
Ireland
,
Israel
,
Italy
,
Jordan
,
Kazakhstan
,
Kyrgyzstan
,
Laos
,
Latvia
,
Lithuania
,
Macau
,
Macedonia
,
Madagascar
,
Malaysia
,
Norway
,
Qatar
,
Spain
,
Taiwan
,
United Kingdom
,
Vietnam
Would you like to speak to one of our advisers? Just submit your details and we'll be in touch shortly. You can also email us if you would prefer.
For Businesses: Do you have questions about how RZPO can help your company? Send us an email and we'll get in touch shortly, or phone +8(835)10001246977 between 09:00-23:00 +3 GMT  Monday to Sunday — we would be delighted to speak (by phone English, Bulgarian languages).
Note: Your details are kept strictly confidential as per our Privacy Policy.
This post is also available in: 英语