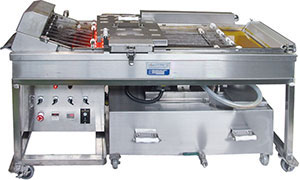 Machine for frying (medium size).
In these models, in the technological roasting mode, an infrared heater is used.
Using an infrared heater can reduce the rate of oxidation of the oil and increase the period of its use.
These machines are easy to operate. One operator is sufficient for maintenance.
Machines are suitable for use in public catering establishments and in restaurants.
The machines are made of stainless steel and meet high sanitary and hygienic standards.

Characteristics of Machine for frying AFM-1700
| | | | |
| --- | --- | --- | --- |
| Power characteristics | Dimensions: length x width x height, mm; (Weight, kg) | Productivity, kg / hr | Processing object (type) |
| 3PX380CX28.5KW | 1700X800X1100(150KG) | 50 | Pork, fish cutlets, dumplings, chicken, potatoes, etc. |
Using an infrared heater allows direct product roasting at a relatively low temperature (the same principle as a microwave oven).
There is no danger of food poisoning, because the infrared heater heats the products from the surface to the guts simultaneously and fries it completely.
Using an infrared heater with a low roasting temperature allows to reduce the oxidation rate of the oil for frying and increase the period of its use. In addition, production conditions are improved by reducing the amount of waste gas.
The machine has a device that automatically unloads dough and flour, which are separated during cooking.
Very easy cleaning of the machine. The waste oil for frying is discharged through the bottom of the container, while it is possible to raise the conveyor with the heater.
One person is sufficient to service this machine.
The operator can consecutively prepare a relatively large number of products, providing a good taste of fried food, so the machine is suitable for use in public catering establishments.
Would you like to speak to one of our advisers? Just submit your details and we'll be in touch shortly. You can also email us if you would prefer.
For Businesses: Do you have questions about how RZPO can help your company? Send us an email and we'll get in touch shortly, or phone +8(835)10001246977 between 09:00-23:00 +3 GMT  Monday to Sunday — we would be delighted to speak (by phone English, Russian, Bulgarian languages).
Note: Your details are kept strictly confidential as per our Privacy Policy.
Summary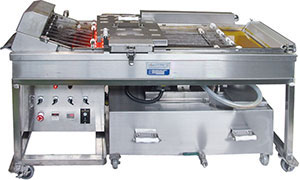 Brand Name
Product Name
Auto Frying Machine AFM-1700