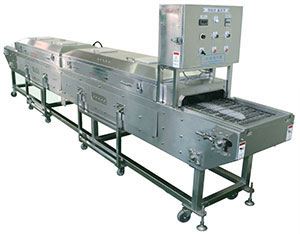 UV Sterilizer.
Sterilization is provided by UV lamps located at the top and bottom sides of the production line.
UV lamps are easy to use and easy to clean;
Sterilization occurs during the movement of fish along the production line.
The required sterilization time and conveyor speed are adjustable.
Special protective capsules, to protect UV lamps from contaminants.
Characteristics of U V sterilizer
| | | | |
| --- | --- | --- | --- |
| Power characteristics | Dimensions: length x width x height, mm; (Weight, kg) | Productivity, kg / hr | Processing object (type) |
| 3P x 380V x 2.5KW | 5000L x 860W x 1500H (1000kg) | 500 | Any product |
Would you like to speak to one of our advisers? Just submit your details and we'll be in touch shortly. You can also email us if you would prefer.
For Businesses: Do you have questions about how RZPO can help your company? Send us an email and we'll get in touch shortly, or phone +8(835)10001246977 between 09:00-23:00 +3 GMT  Monday to Sunday — we would be delighted to speak (by phone English, Russian, Bulgarian languages).
Note: Your details are kept strictly confidential as per our Privacy Policy.
Summary