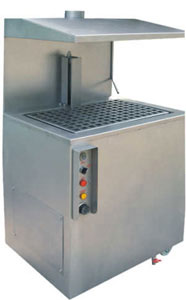 Shrink packaging systems.
The thermo-shrink system TERMOPAK is designed for the final operation of processing food packaging in automatic mode in a heated water environment.
The installation can be used both as part of a complex (line) and independent equipment.
Specifications of Packaging Machine:
Duration of the cycle (processing) from 2 seconds.
Temperature control range up to +92 ºС
Working volume of the bath:
Length, mm 400
Width, mm 600
Depth, mm 300Overall dimensions of the installation (along the front):
Length, mm 600
Width, mm 740
Height, mm 1390 with an umbrella / 1160 without an umbrellaWorking temperature of water from +70 ºС to +92 ºС
Weight of installation without water 110 kg

Principle of operation of Shrink packaging system:
The working process for the installation includes loading the prepared packing materials onto the lifting table and a brief immersion (2 seconds) into the water bath in the automatic mode.
The control of the installation and the regulation of the temperature in the water bath can be done from the control panel located on the front wall.
The temperature control and the completion of the cycle are carried out automatically.
Would you like to speak to one of our advisers? Just submit your details and we'll be in touch shortly. You can also email us if you would prefer.
For Businesses: Do you have questions about how RZPO can help your company? Send us an email and we'll get in touch shortly, or phone +8(835)10001246977 between 09:00-23:00 +3 GMT  Monday to Sunday — we would be delighted to speak (by phone English, Russian, Bulgarian languages).
Note: Your details are kept strictly confidential as per our Privacy Policy.
Summary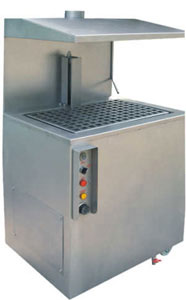 Brand Name
Product Name
Shrink Packaging Machine TERMOPAK