Machines for meat GRINDING and SKINNING
Machines for grinding meat and meat products belong to the category of industrial or technological machines. They are used for dismembering carcases and carcases into cuts; cutting meat and meat products into pieces, strata and strips; for crushing slaughter products for the purpose of their subsequent processing, as well as for finely chopping minced meat in the production of sausages.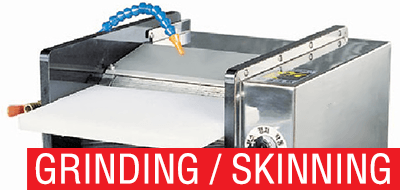 Industrial meat grinder MG 130 is designed for grinding boneless meat and meat products in the manufacture of minced meat for sausage and other meat products with a temperature of -4 ºС in the thickness and above.
The skinning machine is made of high-quality stainless steel, which increases wear resistance and durability. Due to the special design of a skim roller, the yield of products reaches 99%, the surface of the fish remains smooth and clean.
Machines for grinding meat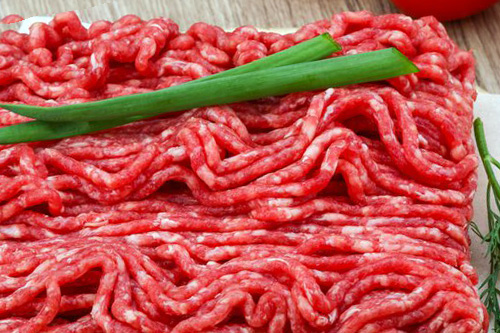 Machines for grinding meat and meat products consist of three main mechanisms: motor, transmission and working. The working mechanism ensures the movement of the working elements along the specified trajectories with the prescribed laws of changing their velocities. The working bodies are understood as devices that directly perform all machine operations: basic, auxiliary and control.
The working bodies are cutting tools that carry out the processes of crushing and cutting.
Classification of machines for grinding meat.
Machines for grinding meat and meat products are periodic, continuous and semi-continuous. In recent years, construct continuous high-performance units connected by a single automated transport communication and controlled by means of electronic computers, create in-line automatic lines. However, the main task of the industry remains the further mechanization and automation of the process of grinding meat and meat products in order to create automated production.
In accordance with the accepted classification of types of grinding, machines for grinding meat and meat products are divided into machines for large, medium, fine and fine grinding:
Machines for large-scale grinding include machines for separating heads, horns and limbs, for cutting carcases and carcases into cuts, for boning meat, for peeling and skinning, for stripping and removing skins from bacon.
Machines for medium grinding include machines for grinding soft and fat-containing raw materials, a mixture of hard and soft raw materials, frozen blocks, for crushing bone and hard confiscates, and for cutting semi-finished products.
Machines for fine grinding belong to machines for grinding meat and meat products, for cutting bacon into pieces.
Machines for fine grinding include machines for chopping minced meat.
Requirements to grinding machines
The basic requirements for machines for grinding meat and meat products can be formulated as follows:
All mechanisms of grinders (motor, transmission and working) should be designed in such a way that the required degree of grinding, preservation of nutritional value and product quality and minimal losses of raw materials are provided as much as possible during processing of raw materials.
Grinding should not be accompanied by great compression forces, leading to extrusion of meat juice.
The temperature of the crushed product should not be higher than that permitted by the current technology.
It is inadmissible to get into working areas lubricating oils, rust, scale and metal inclusions from wear of parts.
The parts in contact with the product should be made of corrosion-resistant materials. The main reasons for the occurrence of corrosion are the wrong choice of the brand of material or protective coatings (inconsistency with their aggressive environment), the lack of protective devices and a low class of surface roughness.
The design of the working mechanisms should be convenient for disassembly and assembly, easily accessible for sanitation and removal of residual raw materials or products.
Electric motors, starting equipment, electrical wiring, instrumentation and control devices must be waterproof or hermetic, or have special waterproof fences. Electric motors and electrical equipment must be properly grounded.
It is advisable to mount the control and measuring equipment and start-up equipment on a separate stand, placing it in the service area of ​​the machine. For safe operation of the machine, it is necessary to provide protective guards and blocking devices.
Reliability and durability of machines for grinding meat
The operational reliability and durability of machines for grinding meat and meat products are due to a number of factors that can be divided into structural, technological and operational.
The structural factors include: the dynamics and kinematics of the machine, the rigidity of the entire structure and its individual components, the shape and configuration of the cutting tools and parts of the grinding mechanism, the choice of the brand of material for their manufacture, the degree of accuracy (qualification in the ISO system), the landing and the roughness class.
Technological factors are the technology of obtaining blanks used for the manufacture of cutting tools and parts, the formation of semi-finished products from them, methods of surface hardening, restoration and finishing of the surface of working parts and tools.
Operational factors include the correct installation of individual machine components and equipment in general, compliance with rules and requirements when installing the machine in situ; adjustment of mechanisms and devices; presence of vibrations and corrosive environment; the state of lubricating oils, devices and the frequency of lubrication; quality of maintenance and repair; level of training and qualification of maintenance and repair personnel, etc.
ADVANTAGES OF OUR EQUIPMENT
Summary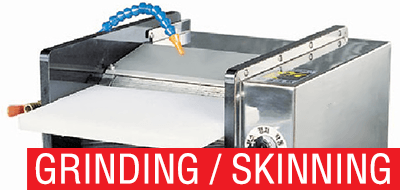 Brand Name
Product Name
Meat Grinding and Skinning Equipment