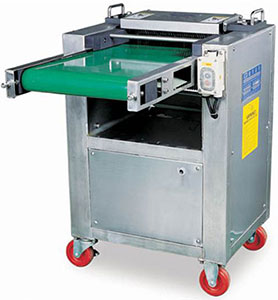 Сutting squid.
Different cutting sizes on one machine due to easy changing of the set of knives and adjustable width of the cuts
High quality cutting due to the effectiveness of using straps for fixing objects
Convenient design for sanitary treatment – work surfaces are easily mounted and dismantled (in accordance with HACCP)
High degree of security due to the possibility of automatic cutting by placing objects on the conveyor
Characteristics of cutting squid equipment
Dimensions: 650 lengths * 950 width * 1100 height
Weight: 120 kg
Material: stainless steel
Electrical connection: 220 / 380V, 50/60 Hz, 3F
Engine: 1500 W
Power: 400 ~ 800 kg / h
Would you like to speak to one of our advisers? Just submit your details and we'll be in touch shortly. You can also email us if you would prefer.
For Businesses: Do you have questions about how RZPO can help your company? Send us an email and we'll get in touch shortly, or phone +8(835)10001246977 between 09:00-23:00 +3 GMT  Monday to Sunday — we would be delighted to speak (by phone English, Russian, Bulgarian languages).
Note: Your details are kept strictly confidential as per our Privacy Policy.
Summary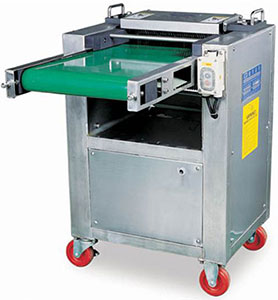 Brand Name
Product Name
Machine for cutting squid MCS 150