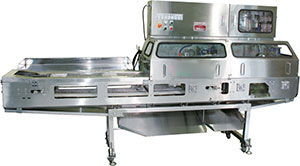 The machine for opening and gutting of squid.
The machine is designed for automatic cutting of squid (opening, gutting, separation of tentacles and viscera).
The accuracy of the machine does not damage the inside when cutting.
At the output, parts of the squid are technologically separated into separate production lines, which makes it possible to organize a highly efficient process of processing.
All operations are performed with care.

Squid Belly Opening. Gutting Machine SBO-7
Processing type
Power characteristics
Dimensions: length x width x height, mm; (Weight, kg)
Performance,pcs / min.
Processed species

With the head
Headless

3P x 380V x 1.75KW
3P x 380V x 1.75KW

3351L x 740W x 1740H
2300L x 740W x 1740H

35
35

Squid
Video of the Squid processing line:
Would you like to speak to one of our advisers? Just submit your details and we'll be in touch shortly. You can also email us if you would prefer.
For Businesses: Do you have questions about how RZPO can help your company? Send us an email and we'll get in touch shortly, or phone +8(835)10001246977 between 09:00-23:00 +3 GMT  Monday to Sunday — we would be delighted to speak (by phone English, Russian, Bulgarian languages).
Note: Your details are kept strictly confidential as per our Privacy Policy.
Summary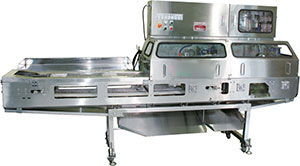 Brand Name
Product Name
Squid Belly Opening. Gutting Machine SBO-7