Machines for INJECTION and SALTING
To give fish products an attractive and fresh look use the injector for fish. This device allows you to evenly distribute all kinds of salt formulations inside the products. The result of this unit is a uniform consistency of the fish, its juiciness, as well as aesthetic cut. The basic principle of the operation of fish injectors is the constant supply of the necessary liquid to the carcass by means of specialized needles.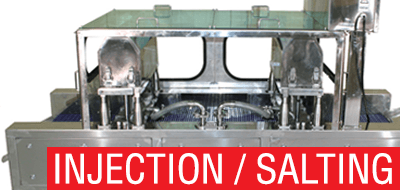 Injection machines are designed for uniform saturation with special salt brine fish fillets. Widely used at the largest fish processing enterprises in Russia. Korean automatic injectors have better performance in comparison with manual injectors, as well as allow to saturate the fish raw material with brine more uniformly than the manual ones.
Quick release needles. Two blocks to be injected. Infinitely adjustable injection pressure for each unit (two separate pumps). Two multistage centrifugal pumps (made of stainless steel) — two-speed
At the end of 2010, the injector was updated for the salting of fish fillets. Based on our accumulated experience and thanks to our valued customers of these machines, we have made more than 20 changes to the design
Adjustable height of the injected product — more efficient and careful distribution of brine.Quick release needles.Two blocks to be injected
Infinitely adjustable injection pressure for each unit with needles (two separate pumps).
Brine mixers differ in their ability to work with salt solutions up to 25%. These salt brine mixers are distinguished by the highest corrosion resistance of equipment and user-friendliness. Designed to work with «dirty» salt — an improved system of filtration, washing and maintenance. Pump in a special version.
Fish Containers 600 — 1000 liters. The size of the outer: 1200х1000х740 mm. Internal size: 1120x920x620 mm. Appearance: solid on 3 runners. Volume: 600 liters. Weight: 37.0 kg. Load (static): 4000 kg.Load (dynamic): 700 kg.
How do fish injectors work?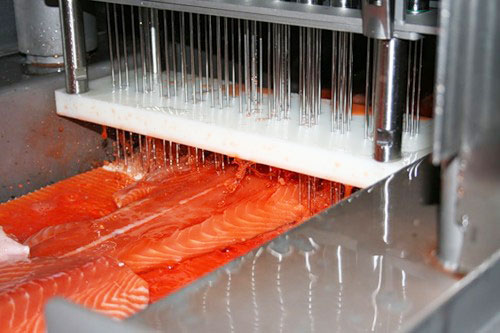 Such aggregates are functioning systems, facilitating the impregnation of raw materials with brines or marinades that improve its taste qualities. All devices are:
The first type of equipment is most often used in enterprises with relatively small production volumes. They are designed for only one worker. The plants do not have any moving parts, therefore they differ in safety and ease of operation. During injection, the solution enters the needle using a special pneumatic system using compressed air. Number, diameter or length of needles are different, it all depends on the model. To create all the elements, stainless steel is used.
Automated technology is found in large enterprises. It has a plate or pushing conveyor, a container for liquid, as well as a separate system for its filtration. The machine continuously or dosed brine to single or double needles.
Buy a fish injector
By visiting the RZPO website, each fish processing enterprise, regardless of its size, whether it be a private entrepreneur or a large firm, will be able to find suitable injection equipment.
ADVANTAGES OF OUR EQUIPMENT
Summary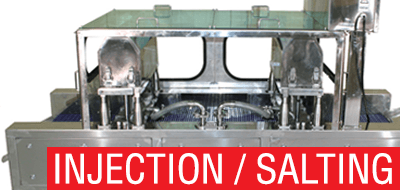 Brand Name
Product Name
Injection and salting equipment