Skinning machines. Scaling machines.
Skinning machines are designed to remove skins from fresh or defrosted (thawed) fillets, whole fish or chunks. The equipment is used both in fish hatcheries of companies, and in public catering establishments. The principle of operation of the machines is quite simple: the raw material is placed on a tape, and then passes through a system of special devices – a skinny drum and adjustable knives.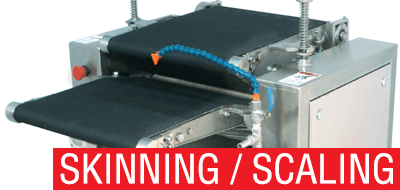 Types of Skinning machines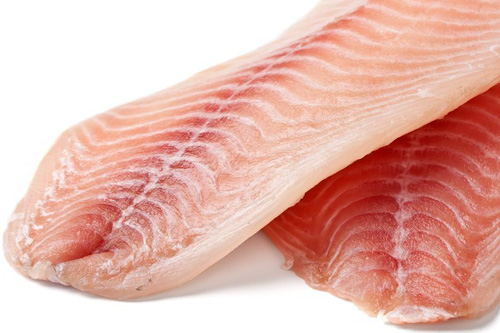 Skinning machines differ in productivity, mode of operation and type of processed products. Here you can purchase equipment of various types:
Automatic.
Semi-automatic.
Hand.
Everything depends on the need of production. Handmade suitable for processing fish, for example, in the restaurant kitchen. For the removal of skins on an industrial scale, it is optimal to use fully automatic machines. We offer skinning machines with productivity from 15-30 to 100-120 pieces per minute.
Buy Skinning and scales machines
Here you can also buy scales machines. They are designed to clean the surface of fish skin from scales. The process is carried out automatically and manually. The machine is equipped with a pneumatic drive, it is safe to operate. Scale removal occurs without damaging the skin of the fish.
The models of skins and scales machines offered by our company ensure the accuracy of work in the given parameters. Some models can be successfully integrated into automatic and semi-automatic fish processing lines. They comply with all the world standards of quality that the modern market places.
ADVANTAGES OF OUR EQUIPMENT
Summary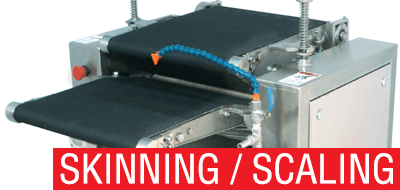 Brand Name
Product Name
Skinning & Scaling machines