Machines for FILLETING AND CUTTING
At each modern fish processing enterprise there must be a filleting machine for fish. This device allows you to get fillets from defrosted or fresh raw materials. Improvement of fillet production technologies is one of the main directions of development in the field of fish processing. Thanks to the production of fillets, your company can significantly expand the range of manufactured products.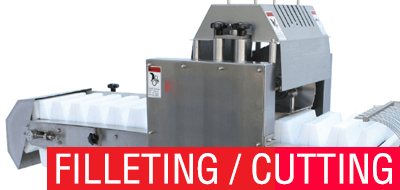 Quality and output of the fillet after processing. The machine CHSF-1 favorably differs from all competitors by its design. These are 2 pairs of circular knives of large diameter. The fish is placed back down, and the first pair of knives cuts the meat to the center bone.
The machine is designed for cutting fresh or semi-defrosted raw.The machine opens the abdominal cavity and cuts the central spine bone, leaving the costal bones.
The machine is designed for cutting fresh or semi-defrosted raw fish.
The productivity of the machine does not depend on the qualification of the operator and allows to obtain a product of consistently high quality at the output.
What machine for cutting fish can do?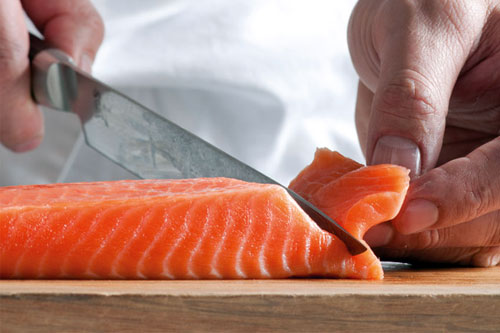 In the production of fillets, filleting machines for fish are carried out:
Cutting edges, as well as spine bones, while removing the black film;
Separation of the loin from the spine of pre-decapitated carcasses.
Among the latter include cod, trout, all kinds of partial fish, haddock and others. Black film is found in herring and some other species.
Changing the distance that remains between the knives, some models allow processing fish of different lengths. Due to the absence of the need to previously remove the insides or the head, the units differ in their efficiency and automation, however, after that the products need to be modified with the help of other techniques.
Filleting machine for fish
Different models of equipment differ in performance and size, which affects the price of filleting machines for fish. They can be integrated into a specialized technological scheme, combining with other equipment – conveyors and conveyors.
The price of a filleting machine for fish
Our company «RZPO» is ready to offer you filleting machines with the optimal "price / quality" ratio. The site of our company provides an opportunity to get acquainted with the wide range of filleting equipment. Here is presented the husk production for filleting and cutting fish. If you want, you can request a price list of the equipment you like to get acquainted with the price in more detail. Small enterprises and large companies will be able to find equipment here at the best prices.
ADVANTAGES OF OUR EQUIPMENT
Summary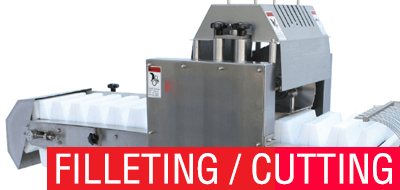 Brand Name
Product Name
Filleting and cutting machines