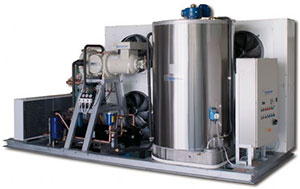 Ice-makers of scaled ice of the EVE series "Scotsmann" (Italy).
The EVE series ice makers from Scotsman (Italy) are designed to produce flake ice from fresh water for use in the food industry.
Ice is produced inside a heat-insulated cylinder equipped with a liquid cooling system. A stainless pump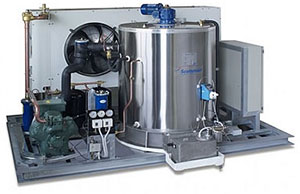 supplies water that has passed through a filter mounted on the outlet pipe to the upper regulating valve. Water is evenly distributed over the surface of the evaporator through a water channel, where it is frozen. A rotating scraper, controlled by an electric motor, cleaves the ice. The drip tray collects excess water that flows down the evaporator drum during the freeze cycle, eliminating the possibility of water getting into the finished ice.
Execution
Compact system
Split system
Benefits:
EVE models are equipped with an oil separator, an oil differential pressure switch, which optimize and clean the compressor. On EVE models, the mass circulation is monitored by a microprocessor that activates the cooling and heat exchange systems to maintain a constant oil temperature.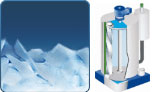 Characteristics of Scotsman flake ice machine
Model
Performance
Overall dimensions, mm
Weight, kg
Type of refrigerant
EVE 201 AS

1900 kg / day
2000х1600х1150
780
R 404, R 22
EVE 301 AS
2900 kg / day
2000х1600х1300
800
EVE 401 AS
3900 kg / day
2000х1600х12000
1150
EVE 651 AS
6200 kg / day
2600х1800х1700
2000
R 404, R 22, R 717
EVE 801 AS

7700 kg / day
2600х1800х1900
2200
EVE 1001 AS
10000 kg / day
4600х1950х2250
2950
Would you like to speak to one of our advisers? Just submit your details and we'll be in touch shortly. You can also email us if you would prefer.
For Businesses: Do you have questions about how RZPO can help your company? Send us an email and we'll get in touch shortly, or phone +8(835)10001246977 between 09:00-23:00 +3 GMT  Monday to Sunday — we would be delighted to speak (by phone English, Russian, Bulgarian languages).
Note: Your details are kept strictly confidential as per our Privacy Policy.
Summary