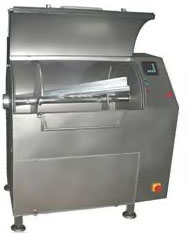 Vertical-type washing machines.
Characteristic:
Stainless steel construction
2 directions of rotation
convenient maintenance equipment
Specifications of washing machine:
XK – 300

Turns of mixers

Gauge / min

10

Rated power

kW

2

Maximum load

pc.

300

Water pressure

MPa

0.3

The use of water

m3

0.15

External dimensions

mm

1500 x 1300 x 700

Supply voltage

V / Hz

3×400 В 50Hz

Options and additional options

Standart

manual dosage of cleaning and washing agents

Extra

2 washing phases: soaking and main sink
Automatic dosage of detergents
Setting the process time, water level

washing chamber

  Remote Control

infusion of detergent
Principle of operation Washing machine
The transportation system is a chain conveyor with leashes and lateral guides that are located at an angle and provide a better flow of water from the surface of the boxes. The transporter is located in the center of the tunnel, revealing the entire inner surface of the box and facilitating this thorough washing of all planes, including the corners of the box. The conveyor speed is controlled by a frequency converter.
Trap for contamination – the results of washing are deteriorated with increasing amounts of contaminants carried through the washing zone. An additional integrated settling device separates the contaminants from the washed objects, taking them straight to the drain hole and preventing contamination from entering the washing tank. The contamination trap provides the required washing result.
Washing system – a combination of a powerful washing pump and special precision injectors. Due to its "depressed" design, the nozzles are not clogged, and their location on the washing sleeves does not allow crossing jets of water. Strong, directional circulation of water in the washing zone of the machine gives an excellent result of cleaning the boxes, both with mechanical and organic impurities. The machine is equipped with integrated automatic metering and rinse aid dispensers.
Drying by blowing – reduces the amount of water remaining on the sink with two powerful fans. Two nozzles with fan arrangement at the top and bottom create a powerful airflow that blows out most of the water and keeps it where it should be – in the car. Drying by blowing reduces the amount of water remaining on the sink items, depending on the conveyor speed and the configuration of the sink items.
Would you like to speak to one of our advisers? Just submit your details and we'll be in touch shortly. You can also email us if you would prefer.
For Businesses: Do you have questions about how RZPO can help your company? Send us an email and we'll get in touch shortly, or phone +8(835)10001246977 between 09:00-23:00 +3 GMT  Monday to Sunday — we would be delighted to speak (by phone English, Russian, Bulgarian languages).
Note: Your details are kept strictly confidential as per our Privacy Policy.
Summary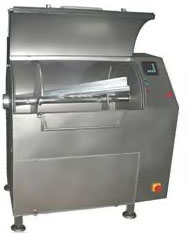 Brand Name
Product Name
Washing machine for smoking sticks