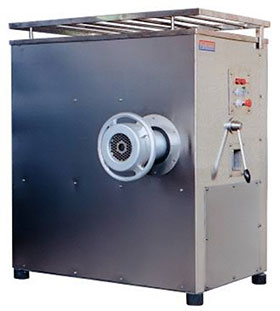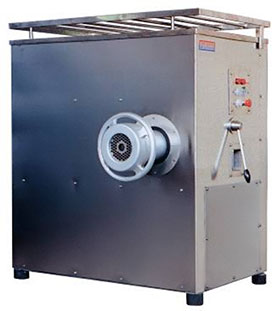 Machine for mincing meat.
Industrial meat grinder MG 130 is designed for grinding boneless meat and meat products in the manufacture of minced meat for sausage and other meat products with a temperature of -4 ºС in the thickness and above.
The engine is two-speed with a speed of 725/1445 rpm. Reducer provides silent operation with no vibration. In the design of the top, a 2-speed working auger is installed, the body of which is stainless, with hardened working surfaces. The raw material is transported to the main auger by means of a feeding auger. A separate drive is provided for each screw.
Cutting grate of the meat mincer – Ø 130 mm.
Meat grinder MG-7
The knife head of the MG-7 top is made of high-quality steel and provides an ideal cutting of raw materials, completely eliminating its kneading and heating.
The first cutting speed is designed for the pre-drying of raw materials with the help of a separator (dormant), which is included in the delivery.
All elements of the top, which come into contact with the wet environment, are made of stainless steel. As an additional option in the composition of the top can enter the loader.

Specifications of meat grinder
Productivity technical mincers industrial, kg / h 3000
Capacity of the hopper, l 160
Meat grinder top Total installed capacity, kW 17,8
Voltage, V 380/220 ± 10%
Overall dimensions, no more than, mm
– length (depth) 990
– width 1200
– height 1400
Weight, kg 600
Min. temperature in the thickness, not lower, ºС -4
The maximum size of a piece, mm 120x120x120
% of end-of-life 10
Set of replaceable cutting tools for industrial meat grinder
Lattice ø 3 mm 1 pc.
Lattice ø 6 mm 1 pc.
Lattice ø 10 mm 1 pc.
Lattice ø 13 mm 1 pc.
Grid reception 1 pc.
Knife 2 pcs.
Separator
Cage grille ø 3 mm 1 pc.
Separator knife 1 pc.
Video of working meat grinder
Would you like to speak to one of our advisers? Just submit your details and we'll be in touch shortly. You can also email us if you would prefer.
For Businesses: Do you have questions about how RZPO can help your company? Send us an email and we'll get in touch shortly, or phone +8(835)10001246977 between 09:00-23:00 +3 GMT  Monday to Sunday — we would be delighted to speak (by phone English, Russian, Bulgarian languages).
Note: Your details are kept strictly confidential as per our Privacy Policy.
Summary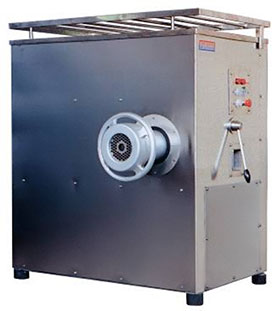 Brand Name
Product Name
Industrial meat grinder MG-7