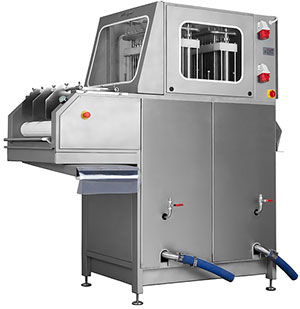 Commercial meat injector.
The MI 80 and 110 injectors are machines for injecting brine into the meat through a needle. It can be used for injections of various types of meat: poultry, pork and veal, with and without bones. The devices are equipped with two injection heads and two centrifugal pumps in stainless steel. The device is equipped with a microprocessor that allows you to configure the selected parameters of the machine, such as a conveyor belt in operation, the number of strokes and the efficiency of the pump (the pressure value on the pressure gauge). The programmed parameters can be stored in the memory of the processor, which guarantees the repeatability of the injection process. The machine is equipped with a set of screens to pre-clean the brine, and is also designed to work with a rotary filter with slots with high filtration precision. We recommend a solution that guarantees the effectiveness of the entire process.
Multi-needle injection of muscle tissue ensures a uniform distribution of salting agents in the raw material, increases the amount of brine introduced. The pressure of the injectors should not exceed 1 – 2 bar. A higher pressure of the syringe leads to the rupture of the muscle tissue and the formation of holes in the puncture site, which leads to an uneven distribution of the brine, to a deterioration in color, consistency and taste of the finished product.
The output of the finished product depends on the amount of brine introduced into the product. The more brine, the greater the yield. Injectors of the company are high-performance investors who have high performance and quality:
Made of stainless acid resistant steel, including pumps.
All models are equipped with a smooth brine pressure control.
Have excellent quality of execution of a design and received production.
Low cost against the background of similar imported cars.
They meet all safety standards and sanitary and hygienic working conditions at food industry enterprises.
The company produces injectors from 1 to 440 needles. Injectors guarantee the absolute percentage accuracy of the product without regard to meat temperature, consistency and the presence of bones. Each individual needle (group of needles: two or four) is under individual control of the control system. This page presents models for injecting meat products and poultry. Injectors for ANR fish are available here.
Characteristics of Meat Injector AN 80 / 160 / 320
Quick release needles
Two blocks to be injected
Infinitely variable injection pressure for each of the units (two separate pumps)
Two multi-stage centrifugal pumps (made of stainless steel) – two-speed
Adjustable pressure 1-5 bar (7 bar)
Infinitely variable speed control
Conveyor made of polypropylene
Smooth adjustment of the conveyor step in a volume of 0-90mm
triple brine filtration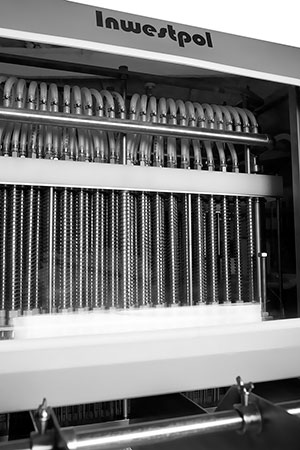 Characteristics of Meat Injector MI.
| | | MI-80 | MI-110 |
| --- | --- | --- | --- |
| Number of needles | pcs | 80/160/320 | 110/220/440 |
| Number of needle nests |  pcs |  80 |  110 |
| Needles in raw |  pcs |  1/2/4 |  1/2/4 |
| Effectiveness |  kg | About 2500-4500 |  About 3000-5000 |
| Injecting speed | tact/min |  0-60 |  0-60 |
| Conveyor belt width |  mm | 500 |  700 |
| Conveyor belt jump |  mm |  0-200 |  0-200 |
| Max. needle lift |  mm | 220 | 220 |
| Brine pressure |  bar |  0-4 |  0-4 |
| Each pump effectiveness |  l/min | 0-60 |  0-80 |
| Dimensions (L x B x H ) |  mm | 1900 x 750 x 2000 |  1900 x 1000 x 2000 |
| Power |  kW | 10 | 10 |
| Voltage |  V/Hz |  3×400/50 |  3×400/50 |
| Weight |  kg |  650 |  870 |
| Brine container |  l |  250 |  250 |
Needles: single, double, quarter.
Option: -guides for chicken

pressure adjustment

 two columns  

 control
Would you like to speak to one of our advisers? Just submit your details and we'll be in touch shortly. You can also email us if you would prefer.
For Businesses: Do you have questions about how RZPO can help your company? Send us an email and we'll get in touch shortly, or phone +7 (926) 491-50-90 between 09:00-23:00 +3 GMT  Monday to Sunday — we would be delighted to speak (by phone English, Russian, Bulgarian languages).
Note: Your details are kept strictly confidential as per our Privacy Policy.
Summary
Brand Name
Product Name
Meat Injector MI 80 / 160 / 320