Purpose: It is intended for drying fish (stock fish) with full control of the technological process according to the user's programs set in the control system.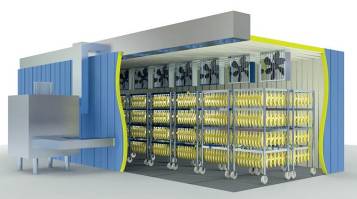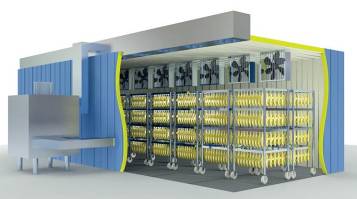 Allows to produce drying of fish with minimal time and energy consumption. Automatic system for monitoring outdoor air temperature – allows you to save electricity by using warm or cold outdoor air, which is fed into the camera during the process of fish frying.
Dryjet-Eco drying equipment, produced by RZPO, consists of the following components, namely:
The company RZPO offers innovative technology Dryjet-Eco for the fish processing industry, which includes constant and complete control of the process of fish frying, autonomy from any weather conditions, as well as maximum energy efficiency for preparing the finished product.
In this setting, it is possible to dry (dehumidify) all breeds of fish with VERY high efficiency, both with a vertical hinge and fillets on horizontally arranged grids.
a climatic unit for air preparation, in which the air flow is dehumidified and heated in the energy-saving mode;
DRYING CLIMATIC FISHING UNITS, Fish drying, fish frying, Fish drying equipment for injection and suction channels for docking the air conditioning unit and drying chamber for the purpose of air exchange and even distribution of prepared air;
integrated circulating ventilation and heating units, to ensure uniform and optimal blowing of the product;
a control unit for temperature and humidity both inside the drying chamber and outside for use in the process of outside air (when it meets the specified parameters inside the chamber);
control system MP-1000, which allows you to program the parameters of the drying process in 40 programs of 30 steps each and strictly control the execution of the process itself Drying fish;
recovery system.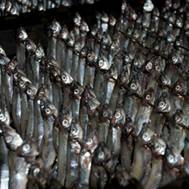 Dryjet-Eco technology has no analogues – it's a unique own development of the company RZPO, which proved its superiority in practice!
When using Dryjet-Eco Fish Drying Equipment, produced by RZPO, during the fish drying process, the maximum effective movement of moisture from the inner layers of the product to the outside (diffusion) occurs without the formation of an outer over-dried crust that prevents evaporation of moisture from the surface of the product. This is due to the precise retention of process parameters, such as temperature and humidity, during program execution, as well as by adjusting the airflow rate inside the drying chamber.
Drying systems Dryjet-Eco drying process is absolutely controlled! Dryjet-Eco plants can protect the drying process from the adverse effects of the environment, such as high humidity or high temperatures, which contribute to the destabilization of the microbiology of the product. The product quickly gives unbound water, which significantly improves its taste and organoleptic characteristics.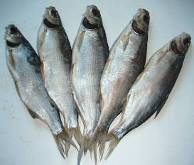 The Dryjet-Eco system is very economical thanks to the use of "spent", i.e., hot Freon for heating the air or compensating for the temperature drop in the chamber when drying. This allows you to avoid unnecessary energy costs, which greatly increases the efficiency of the installation and reduces the cost of finished products. If parametric indicators of temperature and humidity of external air correspond to those required by technology, the Dryjet-Eco system automatically switches to its use.
But the main thing when using Dryjet-Eco technology is the stable high quality of your products with the minimum production time!
Approximate time for drills in Dryjet-Eco installations for 10 frames
| | | | | |
| --- | --- | --- | --- | --- |
| Name of product | Quantity of raw materials, kg | Time of Drying of fish, hour | Output of finished products, kg | % of output |
| Goby | 1300 | 38-48 | 480-520 | 37-40% |
| Roach | 1000 | 49-57* | 620-640 | 62-64% |
| Bream | 1500 | 72-84* | 825-900 | 50-55% |
(*) – when loading on the frame no more than 150 kg of fresh fish.
Internal dimensions of the room: width – 3.5 m, depth – 7.5 m, height – 3.0 m.
Range of setting the humidity and temperature: + 12 ° C to + 30 ° C at 80% to 30% relative humidity.
Heating: electricity. It is possible to use steam calorifiers.
Installed power: 30,4 kW. Of these, 11 kW fans, 17 kW – electric heaters and 2.4 kW electric. power climate (fan climate). Really consumed during operation – no more than 14-18 kW (KNOW-HOW factory manufacturer)
Cooling: refrigeration compressor (not included in delivery), refrigeration capacity 30,0 kW at 0 ° C boiling freon. The equipment of the machine is coordinated with RZPO LTD.
Microprocessor control MP-1000: hermetic execution of a computer, allowing you to memorize 40 programs of 30 technological steps each. The ability to connect to a personal computer for configuration and logging. Power control cabinet, temperature and humidity sensors.
Drying process time depends on:
– Type of raw material (fish, beef, pork, etc.);
– Size of raw materials: fish fillet, straw;
– Density loading of the chamber;
– The specified parameters of the process;
– As well as from the quality of raw materials
Individual solution – the possibility of using existing facilities.
Camera UVR 3  can be supplied also in the components, and the block overlapping units and control system supplied without camera. Thus, it is possible to use the available space. Equipment installation and commissioning is fast and easy.
Would you like to speak to one of our advisers? Just submit your details and we'll be in touch shortly. You can also email us if you would prefer.
For Businesses: Do you have questions about how RZPO can help your company? Send us an email and we'll get in touch shortly, or phone +8(835)10001246977 between 09:00-23:00 +3 GMT  Monday to Sunday — we would be delighted to speak (by phone English, Russian, Bulgarian languages).
Note: Your details are kept strictly confidential as per our Privacy Policy.
Summary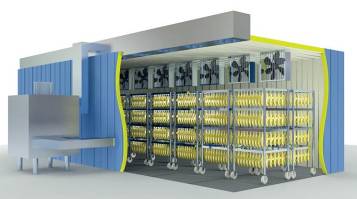 Brand Name
Product Name
Climatic installations KLIMATRONIK type S. Drying of fish