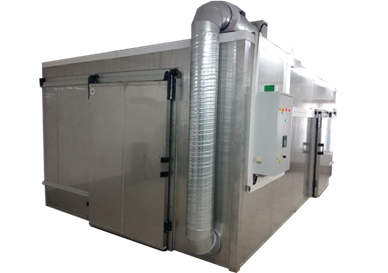 This is the 3rd generation drying cameras that we produce. The most effective due to the large air flow, powerful dehumidification. Installation is universal for a horizontal fillet of fish or straw, and for whole fish vertical linkage. That makes it universal for all fishery products, including caviar, seafood and sticks.
Equipped with a logical control drying cameras UVR 3 using a high-speed in-line air flow, thermal technique that allows drying meat or fish and other food products in an optimal and high-efficiency mode with dehumidification. Drying process is made due to 3 factors: air movement, dehumidification and active evaporation of moisture due to the difference in temperature (heating). These 3 methods allow you to quickly, evenly and efficiently to make drying fish.
№

Name of the equipment and components

1.1

Drying fish equipment "Drying Stream 3" (2×5=10 euroframes) size 3,5×5,3 meters up to 2 tons of load on fresh raw materials (whole fish vertical linkage, such as bream, zope, roach). STANDARD version:

● Block unit (heating equipment and air delivery) is made of galvanized steel, reversible.
● The dehumidification plant (2 evaporators inside the chamber) with total capacity of 15 kW.
● Automatic control panel, on the basis of the MR-200
* Automatic humidity control system
● Power control cabinet. Automation and electrical systems of German production.
● Measuring sensors. 1 of the sensor shows temperature of the fish during the drying process.
● 2 refrigerating units with a total capacity of 15 kW of cooling.
● The ceiling grid for the organization of horizontal flow
● KNOW-HOW. Alignment system of flows in height. This provides uniform drying throughout the entire height of the cart.

2.1

Automatic control panel Mr-1000 or Mikster 500. OPTION. More ergonomic, comfortable and informative. Allows to display and to store on the personal computer all data of the process. And visualize everything that happens in online mode: temperature, humidity, drying mode etc.

3.1

Drying fish camera equipment in PREMIUM package.
Same as STANDARD version + extras:
• Recovery freon unit at 18 kW of heat (2nd capacitor working on our program). It allows you to work without heaters in the main drying mode. Save up to 90% of electricity.
• Automatic control panel MP-1000 with the function to output drying parameters on the personal computer.
• Automatic water supply to the psychrometer's tank.
• Design of the electrical cabinet is stainless steel.
1.1 Drying cameras UVR 3rd generation
Drying cameras UVR 3 provide a quick and uniform process. The drying process is performed using compact block units, providing a uniform motion of air flows, prepared by thermal equipment with simultaneous dehumidification. UVR 3 cameras designed in such a way, that a block of units and adjustable overlapping can form a wind tunnel for uniformly supplying air to the fish.
The logic control system constantly monitors the temperature in the body of the product (fish or meat), and the temperature in the chamber. This allows quick drying process with low heat consumption. Depending on the product (size, weight, fat, fish species) and the chamber dimensions, drying time ranges from 18 hours (for example pollock fillets) to 66 hours (medium-sized roach). In Vladivostok with technology of hot drying rod of red fish we got finished product in 12 hours.
In accordance with the requirements of the HACCP (Hazard Analysis and Critical Control Points) on safety food quality, the camera is equipped with a system for process monitoring with data archiving.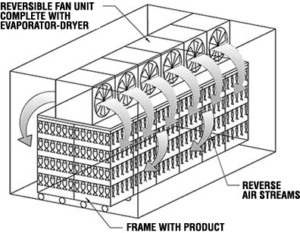 Drying process time depends on:
– Type of raw material (fish, beef, pork, etc.);
– Size of raw materials: fish fillet, straw;
– Density loading of the chamber;
– The specified parameters of the process;
– As well as from the quality of raw materials
Individual solution – the possibility of using existing facilities.
Camera UVR 3  can be supplied also in the components, and the block overlapping units and control system supplied without camera. Thus, it is possible to use the available space. Equipment installation and commissioning is fast and easy.
Operating principle
– drying of raw materials of the circulating air feed mass in a closed system with maintaining its temperature and humidity for a given program. Management of technological process is controlled using the master controller.
This method makes it possible to obtain a predetermined temperature of the raw material with relatively high accuracy by the using sensors inserted into the product. And most importantly to PREVENT overheating of the fish and accordingly leakage of body fat. The automation system will switch on the cooling of the product when it reaches the maximum temperature. Logic control system constantly monitors the temperature of the surface of the product, therefore the surface temperature never exceeds the allowed value.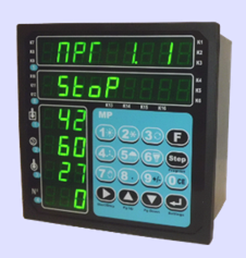 To avoid overheating or drying the product surface thermal effect cyclically. Upon the termination of the thermal effect of surface layers, giving a warm inner layers, cooled, and the temperature of the product is aligned. The result is that the finished material has an optimal and uniform temperature.
Intelligent control system Mr-200 (STANDARD package version), developed by the specialists of the "RZPO" company, will allow you not only reliably and with high accuracy to control the drying process of any product, but to provide real-time information about the processes occurring in drying camera.
TECHNICAL DATA model up to 2 tons of load
Power                                                                         25.6 kW, 400 V, 100 A
heating elements + fans                    20 + 2 kW
Dehumidifier                                     3,4 kW electrical power
Built-in dehumidifier with a capacity of      10 kW for cold
Dimensions                                                   3,5m x 5,3m x 3m (H) – ceiling height
Performance                                                   up to 2 tons of load on fresh raw material
PREMIUM PACKAGE                  Capacitor 12 kW of heat using hot freon after
                                                           dehumidification control panel MP-1000 with data
output to a PC
Power in Premium package            12,9 kW
heating elements + fans        7,5 kW to 2 kW
Dehumidifier                         3,4 kW
The drawing and appearance of the installation UVR
Example based on drying equipment 2×4 row and 4 sizes,3×3 meters
Explanation of the drawing:
A capacitor (PREMIUM version) system recycling the hot Freon. Power 18 kW of heat.
Evaporator (dehumidifier) with a moisture extraction system from the drying chamber.
Circulation reversible fan with heating elements.
Reversible fan for mixing hot and cold air.
Electrical panel with built-in automatic control. It is put on the customer's request at a convenient place for him.
3.1 Automatic control panel Mr-1000 (the option or put in PREMIUM package).
The control system UVR, computer panel MP-1000 – is a permanent and complete control of the process parameters with the information output on the display.
• 40 programs within 30 process steps each;
• the temperature control inside the chamber and inside the product;
• monitoring and control of humidity;
• Troubleshooting with the remote control service information for the possibility of individual programming;
• Easy to operate control panel when programming the technological process and does not require special skills.
• Possibility of programming from a personal computer.
Appearance of the registration system and recording data on a personal computer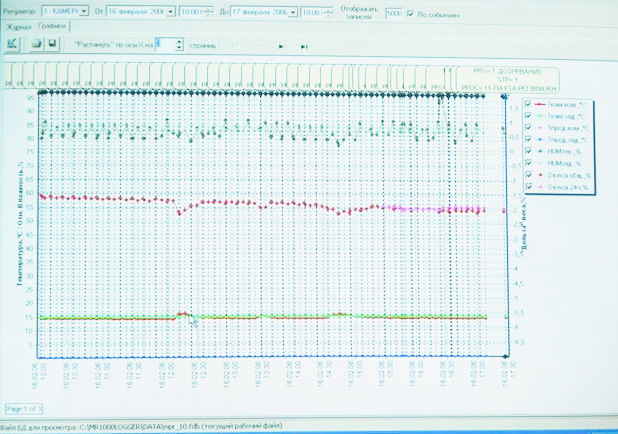 Would you like to speak to one of our advisers? Just submit your details and we'll be in touch shortly. You can also email us if you would prefer.
For Businesses: Do you have questions about how RZPO can help your company? Send us an email and we'll get in touch shortly, or phone +8(835)10001246977 between 09:00-23:00 +3 GMT  Monday to Sunday — we would be delighted to speak (by phone English, Russian, Bulgarian languages).
Note: Your details are kept strictly confidential as per our Privacy Policy.
Summary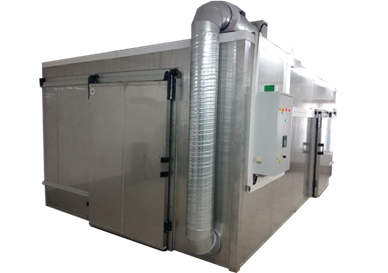 Brand Name
Product Name
Drying fish equipment UVR. 3rd generation