More efficient and careful distribution of brine.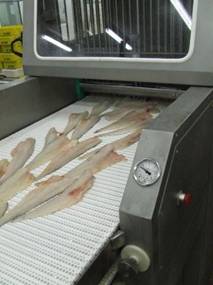 Characteristics:
adjustable height of the injected product – more efficient and careful distribution of brine
Quick release needles
Two blocks to be injected
Infinitely adjustable injection pressure for each unit with needles (two separate pumps)
Two multistage centrifugal pumps (made of stainless steel) – two-speed
Adjustable pressure 0,5-2,5 bar
Infinitely variable speed control
Conveyor made of polypropylene with a width of 700 mm
Smooth adjustment of the conveyor step in a volume of 0-90mm
Number of needle nests

[pcs]

2

Number of pumps

[pcs]

2

Total number of needles

[pcs]

440

Number of needles in the nest

[pcs]

4

Number of bars

[tact / min]

0-60
stepless adjustment

Conveyor width

[mm]

700

Pipeline step

[mm]

0-90
stepless adjustment

Max. needle lifting height

[mm]

220

Brine pressure

[bar]

0,5-2,5
stepless adjustment

Dimensions (length x width x height)

[mm]

2800x1000x2000

Power

[kW]

7

The weight

[kg]

850
Video of working injector:
Would you like to speak to one of our advisers? Just submit your details and we'll be in touch shortly. You can also email us if you would prefer.
For Businesses: Do you have questions about how RZPO can help your company? Send us an email and we'll get in touch shortly, or phone +8(835)10001246977 between 09:00-23:00 +3 GMT  Monday to Sunday — we would be delighted to speak (by phone English, Russian, Bulgarian languages).
Note: Your details are kept strictly confidential as per our Privacy Policy.
Summary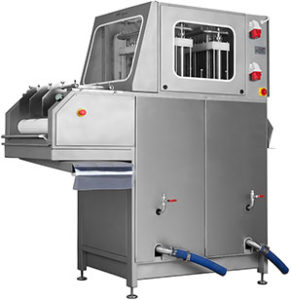 Brand Name
Product Name
Injector for 110 needles ING 110