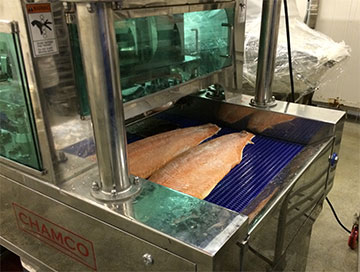 Dear partners!
Due to a large number of inquiries for Korean injection machines MFF for fish fillets, I want to tell you more about them, because they are definitely worthy of Your attention.
Injection machines are designed for uniform saturation with special salt brine fish fillets. Widely used at the largest fish processing enterprises in Russia.
Korean automatic injectors have better performance in comparison with manual injectors, as well as allow to saturate the fish raw material with brine more uniformly than the manual ones. This eliminates such a problem as the formation is saturated with brine regions. Injection of fish products allows to avoid fast spoilage of raw materials and accelerates the process of salting, as well the output of the finished product also increases.
Injectors are easy to use, helping to save time and money.
The economic effect of using the injection machine MFF.
We consider it necessary to explain what is the economic effect of using injection machines MFF.
When choosing an injection machine, we should pay attention not only to its cost and performance, it is also necessary not to forget about such a concept as output of finished products.
For calculations, let's take the wholesale value of salted salmon. The minimum price is from 16 $US Dollars per kilogram.
The power of the injector, even the smallest, is 900 kg per hour. In a day shift of 8 hours it is 7.200 kg. An increase in output of only 1% leads to an additional 72 kg of finished product per shift. Considering that in the month of 22 working days it is 1.584 kg. In a year (we take 247 working days) we have 17.784 kg, that is, the quantity of the finished product that you will additionally receive. Multiplying this amount by the cost of raw materials (16 $US Dollars), we get 296.400 $US Dollars a year. It seems to us – these are impressive figures. And this despite the fact that we considered an increase in output of only 1%.
On Korean automatic injectors of the MFF series, a salt solution without thickeners achieves up to 16% increase in the weight of red fish, and up to 20% increase in the weight of Pollock fillets when using phosphates.
Of course, it is you who decide. Our task is to help you make the right choice and save not once with the purchase of equipment, and not lose your profit the entire period of work on the equipment you use.
BEFORE:

AFTER:

Injection machine for fish fillets MFF-500 and 1000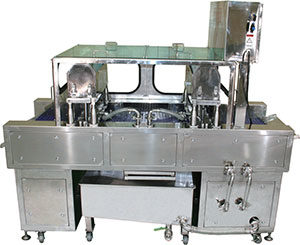 • The machine is designed for automatic introduction of salting solution (brine), and if necessary, various additives, in fillets.
• The machine is manufactured in accordance with the norms of the Food Safety Management System (FSMS), which meets the highest hygiene standards.
• The machine allows you to receive a product that is ready for consumer packaging and feeding it to the counter after a technologically prescribed exposure.
• Increasing the weight of red fish up to 16% on a standard brine, without the use of thickeners.
• Frequency control of all parameters: conveyor speed, pump productivity, brine injection frequency (the needle lowering cycle is synchronized with the conveyor speed).
Model
Power supply
Dimensions, mm and weight, kg
Diameter of needles, mm.
Number of needles, pcs
Performance, fillets/min.
MFF-500
380V,        1 KW
2200x 900 x 1980

(450kg)

0,8 – 1
250
3 ~ 10*
MFF-1000
380V, 1,2KW
2200x 900 x 1980

(380kg)

0,8 – 1
500
6 ~ 20*
Note: * depending on the size of the fillets. The productivity is indicated with a fillet weight of about 700 grams.

Video of working injector:
Would you like to speak to one of our advisers? Just submit your details and we'll be in touch shortly. You can also email us if you would prefer.
For Businesses: Do you have questions about how RZPO can help your company? Send us an email and we'll get in touch shortly, or phone +8(835)10001246977 between 09:00-23:00 +3 GMT  Monday to Sunday — we would be delighted to speak (by phone English, Russian, Bulgarian languages).
Note: Your details are kept strictly confidential as per our Privacy Policy.
Summary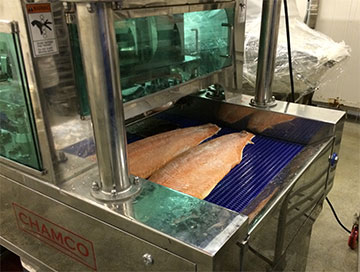 Brand Name
Product Name
Injection machines for fish fillets MFF. Korean automatic injectors