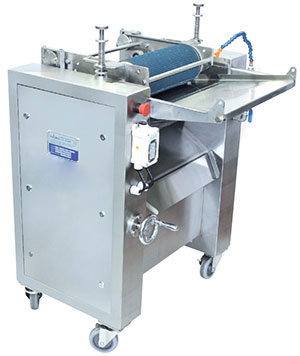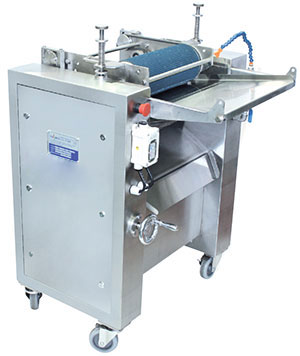 Automatic fish Skinning Machine
The machine is designed for skinning large fish fillets and giant squid in a semi-automatic mode.
The machine is equipped with a clamping drum that delivers the object to be processed under the descaling knife. This principle of operation prevents the hands of the operator from entering the working area of the knife.
The machine meets the highest hygienic requirements.

Characteristics of Skinning Machine SMF 750
| | | | |
| --- | --- | --- | --- |
| Power characteristics | Dimensions: length x width x height, mm; (Weight, kg) | Performance,pcs / min. | Processed species |
| 3Px 380Vx 0.75KW | 850Lx 720Wx 950H (196kg) | 40 ~60 | Alaska pollock, cod, squid, tilapia. |
Video of the Skinning Machine:
Would you like to speak to one of our advisers? Just submit your details and we'll be in touch shortly. You can also email us if you would prefer.
For Businesses: Do you have questions about how RZPO can help your company? Send us an email and we'll get in touch shortly, or phone +8(835)10001246977 between 09:00-23:00 +3 GMT  Monday to Sunday — we would be delighted to speak (by phone English, Russian, Bulgarian languages).
Note: Your details are kept strictly confidential as per our Privacy Policy.
Summary