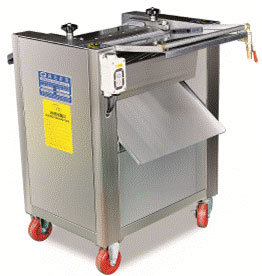 Skinning machine.
Descaling machine for fish is designed for skins with fresh, defrostered and salted whole fish of large breeds, as well as squid.
The machine is equipped with a water spray nozzle for washing the roller during operation. Therefore, before starting work, it is recommended to connect the unit to the water supply.
Works in a semi-automatic mode – the operator only needs to feed the squid or fish.
It is characterized by high reliability – the machine uses a stained stainless steel. The use of such materials extends the service life of the device by half.
Very convenient design for sanitary treatment – the working surfaces are easily mounted and dismantled.
High-precision adjustment of the apparatus for the product and the special cutting of the knife allow minimizing product losses during processing.
The machine is safe to use, easy and convenient to clean, has a modern design.
Characteristics of Fish skinning machine
Dimensions (LxWxH)

mm

620 х 570 х 900

Weight

kg

100

Material

Stainless steel

Power

V

750

Roller Speed

m/min

22

Performance

pcs / min

30-50
Video of Descaling machine for Fish
Video of skinning equipment
Would you like to speak to one of our advisers? Just submit your details and we'll be in touch shortly. You can also email us if you would prefer.
For Businesses: Do you have questions about how RZPO can help your company? Send us an email and we'll get in touch shortly, or phone +8(835)10001246977 between 09:00-23:00 +3 GMT  Monday to Sunday — we would be delighted to speak (by phone English, Russian, Bulgarian languages).
Note: Your details are kept strictly confidential as per our Privacy Policy.
Summary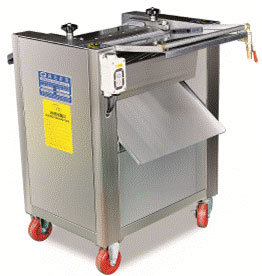 Brand Name
Product Name
Descaling machine for fish DMF-1