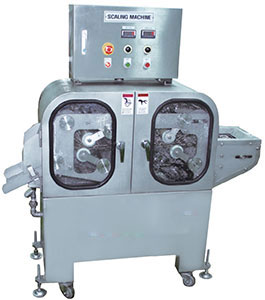 Multifunctional scale removal machine
The machine is designed to remove scales from any kind of fish.
Removal of scales occurs with the help of jets of water and moving jets.
The pressure in the nozzle, the speed of the nozzles and the speed of the conveyor with the fish are regulated.
The equipment is compact and mobile. This allows you to save the workspace, it is possible to integrate the equipment into various production lines.
It is possible to customize for any type of product.
The machine meets the highest sanitary and hygienic standards.
Automatic scaling machine designed to remove scales from fish of different breeds. Removal of scales occurs by directing the jet of water under pressure onto scales of fish until it is completely cleared from the body of the fish. Water jets fall on the fish simultaneously from all sides. The operator's job is to lay the fish on a conveyor whose speed is regulated depending on the fish being processed. The pressure of the water jet, if necessary, is regulated according to the fish being processed.
Characteristics of Universal Scaling Machine USM 100
| | | | |
| --- | --- | --- | --- |
| Power characteristics | Dimensions: length x width x height, mm; (Weight, kg) | Performance,pcs / min. | Processed species |
| 3Px380Vx4,0KW | 1350x480x1500; (275 kg) | 20~40 | Flounder, anchovies, mountain, trout, salmon and any other fish. |
Video of the Universal Scaling Machine:
Would you like to speak to one of our advisers? Just submit your details and we'll be in touch shortly. You can also email us if you would prefer.
For Businesses: Do you have questions about how RZPO can help your company? Send us an email and we'll get in touch shortly, or phone +8(835)10001246977 between 09:00-23:00 +3 GMT  Monday to Sunday — we would be delighted to speak (by phone English, Russian, Bulgarian languages).
Note: Your details are kept strictly confidential as per our Privacy Policy.
Summary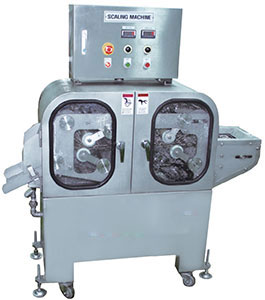 Brand Name
Product Name
Universal Scaling Machine USM-100