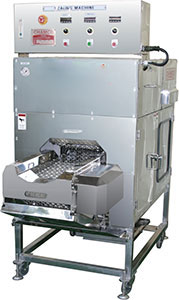 Multifunctional scale removal machine
The machine is designed to remove scales from various types of fish.
Scales are removed using water jets and moving nozzles.
All the parameters in the machine are regulated: conveyor speed, water pressure in the nozzle, speed of the nozzles.
The equipment is mobile. This allows it to be easily integrated into various production lines.
It is possible to adjust for any type of product.
The machine is made of stainless steel and meets the highest sanitary and hygienic standards.
Automatic scaling machine designed to remove scales from fish of different breeds. Removal of scales occurs by directing the jet of water under pressure onto scales of fish until it is completely cleared from the body of the fish. Water jets fall on the fish simultaneously from all sides. The operator's job is to lay the fish on a conveyor whose speed is regulated depending on the fish being processed. The pressure of the water jet, if necessary, is regulated according to the fish being processed.
Removal of scales occurs by the action of high water pressure, through four rotating water-supplying disassembled nozzles installed in the vertical and horizontal planes. Scaling with rotating nozzles is very effective.
Simple control over water pressure, adjustable conveyor speed, transverse motion of the nozzles, will provide the ideal results of cleaning fish from scales.
Water: 15 l / min, internal pipe size 20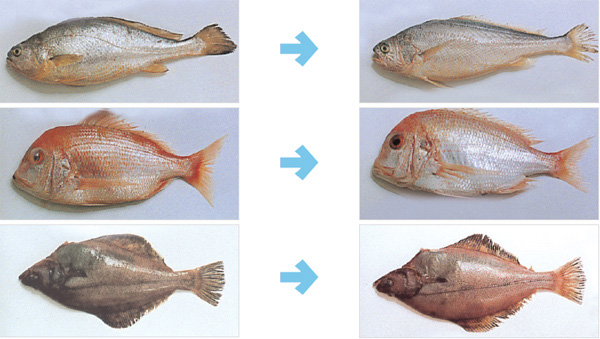 Characteristics of Universal Scaling Machine USM-500
| | | | |
| --- | --- | --- | --- |
| Power characteristics | Dimensions: length x width x height, mm; (Weight, kg) | Performance,pcs / min. | Processed species |
| 3Px380Vx4,0KW | 1500x900x1500; (380 kg) | 40~ 80 | Flounder, anchovies, pink salmon, trout, salmon, carp, carp and any other species of fish. |
Video of the Universal Scaling Machine:
Would you like to speak to one of our advisers? Just submit your details and we'll be in touch shortly. You can also email us if you would prefer.
For Businesses: Do you have questions about how RZPO can help your company? Send us an email and we'll get in touch shortly, or phone +8(835)10001246977 between 09:00-23:00 +3 GMT  Monday to Sunday — we would be delighted to speak (by phone English, Russian, Bulgarian languages).
Note: Your details are kept strictly confidential as per our Privacy Policy.
Summary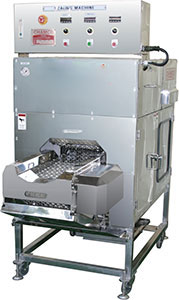 Brand Name
Product Name
Universal Scaling Machine USM-500