A machine for defrosting fish.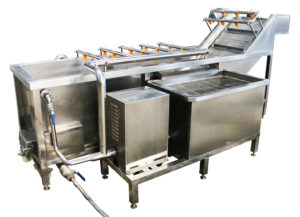 The Machine is designed for defrosting frozen fish blocks.
Due to the use of the principle of convection and constant air supply to the inside of the bathroom for defrosting, the water temperature is maintained at the same level throughout the defroster, which ensures uniform defrosting of the raw material.
Simplicity of a design provides high reliability in operation.
The machine can operate in the automatic mode of water supply, and the time of defrosting raw.
Water can be used 3-4 times, depending on the degree of contamination of water.
Automatic unloading of defrosted fish into a tank or onto a conveyor.
Defrosting time for fish with a temperature of -18 C to +5 C is 2 hours without the use of heating elements and 1 hour when electric heating is turned on.
Built-in compressor. For the defroster nothing more is required.
The machine for water defrosting
| | | | | | | |
| --- | --- | --- | --- | --- | --- | --- |
| Model | Size, mm | Power, kWt | Defroster volume, l | Weight, kg | Internal size of capacity, mm | Capacity of fish, kg per cycle |
| DW – 1600 | 3000х1900х2200 | 12 | 1600 | 700 | 2000х1000х800 | 600 |
Video of working machine DW-1600:
Would you like to speak to one of our advisers? Just submit your details and we'll be in touch shortly. You can also email us if you would prefer.
For Businesses: Do you have questions about how RZPO can help your company? Send us an email and we'll get in touch shortly, or phone +8(835)10001246977 between 09:00-23:00 +3 GMT  Monday to Sunday — we would be delighted to speak (by phone English, Russian, Bulgarian languages).
Note: Your details are kept strictly confidential as per our Privacy Policy.
Summary