Smoking Chambers for COLD and HOT smoking ASC-1 (Automatic smoking chamber)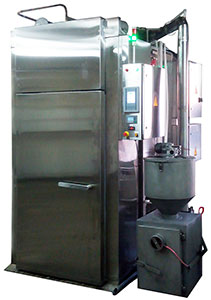 We presenting you modern automatic chambers (ASC PREMIUM package) equipped with equipment and components from leading manufacturers.
Advantages:
KNOW-HOW (improvement) of the air duct in the area of the circulation fan area is allowed to increase the efficiency of the impeller by 20% (the speed of smoke-air mixture at the nozzles 30 m/s). Reducing the time of all the processes in comparison with European chambers. As a consequence of the reduction of heat loss by at least 1-2% even against similar imported analogues.
Due to the modernization of the smoldering smoke generator chambers , we have improved the smoke-drying properties of the resulting smoke: increased its coloring and aromatic properties. Also it is made possible to significantly increase the density of the resulting smoke and eliminate the likelihood of fire chip. There is no fire in our smoke generators. We Guaranteed.
Overall performance of all chambers of the PREMIUM package execution: Made of stainless steel AISI 304, automatic control panel Mikster IMAX 500. The automatic smoke generator DGSCH-100A steel 304. Included exhaust fan with frequency control. The motors drive of the impeller are controlled by a frequency converter. Soft-start and multiple speeds on all electric motors. The external evaporator (evaporator working in a closed loop with air dehumidification or smoke-air mixture). Appearance and description scheme. The evaporator is designed to operate in summer conditions or high humidity conditions.
| | |
| --- | --- |
| № | Typical performance of the equipment |
| 1.1 | Smoke-cooking heat chamber ASC-1 PREMIUM for COLD and HOT Smoking, electric capacity of 1 Euroframe |
| 2.1 | Smoke-cooking heat chamber ASC-2 PREMIUM for COLD and HOT Smoking, electric capacity of 2 Euroframe |
| 3.1 | Smoke-cooking heat chamber ASC-3 PREMIUM for COLD and HOT Smoking, electric capacity of 3 Euroframe |
| 4.1 | Smoke-cooking heat chamber ASC-4 PREMIUM for COLD and HOT Smoking, electric capacity of 4 Euroframe |
Additional options:
| | |
| --- | --- |
| № | Name of the equipment |
| 5.1 | The control panel Mikster iMAX 1000. Touchpad. Graphics, visualization. |
| 6.1 | Fully collapsible option. Price per 1 Euroframe. Allows you to bring in smoking chambers through the normal doorways and make the assembly of stainless steel panels in place |
1.1-4.1 Universal smoke-cooking plant ASC 1-4 GK and HK.
Universal smoke-cooking plant ASC 1-4 GK and HK are designed for cold and hot smoking, drying, cooking, roasting, hot air roasting food etc.. Range of use – the production of meat products, fish products and other food products, technology that include any combination of heat treatment, drying and smoking.
Main technological and structural indicators
production on the basis of components from the world's leading companies of Germany, France, Italy, Poland
technological support at all stages of the work
limit reduction cycles of the product heat treatment.
uniform exposure of heat treatment parameters (temperature, humidity, smoke, aerodynamic loading) at all points of the product loaded in the heat chamber
full automation of all technological processes
minimization of energy consumption
adaptation to day-and-night service
ease of equipment maintenance
reliability of all components and automation
minimization of heat losses during heat treatment of the product.
SAVINGS CALCULATION FOR meat – cold-boiled pork (EXAMPLE).
Reference example for heat losses during smoking of boiled pork on our smoking chambers is 6-7%. The standard figure for many manufacturers is 10-12%. On average, up to 400 kg of cold boiled pork are placed on a 2-frame chamber. The time of smoking is up to 3.5 hours. For a shift up to 6 smoking cycles per day. Let's take our "bad" number. The difference is between 10% (in any import) and 7% in our smoke chamber. This is 3% per one cycle of additional products. In addition to the excellent appearance, we get another 12 kg of additional products from each smoking on a 2-frame camera. For a day 12х6 = 72 kg of delicious cold boiled pork. On 20.05.14 the wholesale price of a boiled pork is 4,6 US Dollars. Those. at 72×4,6 = 331,2 US Dollars per day YOU GET MORE when using our smoking chamber. In a year the figure will be 82800 US Dollars (we took only 250 working days, and this is only at the expense of reducing heat losses. + Economic effect due to the reduction of smoking time and improvement of appearance.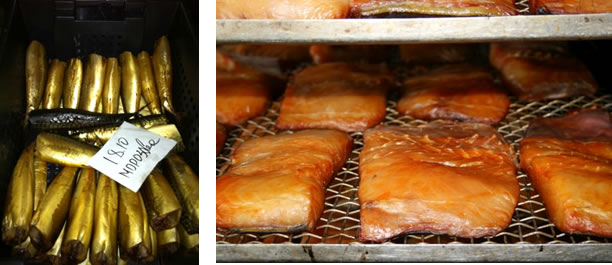 The LOADING rates of MEAT & POULTRY PRODUCTION and the time of smoking on the automatic smoking chambers for certain types of sausages
Type of product

loading
frame

heat treatment cycle

(kg)

(min)

Sausages

Boiled sausage, sheath impermeable, ø65 mm

330

90

Boiled sausage, sheath impermeable, ø80 mm

380

110

Boiled sausage, sheath impermeable, ø100 mm

400

150

Boiled sausage, shell of biloba

180

300

Sausages, casing shell, ø32-34 mm

145

75

Sausages, sheath permeable, ø22-24 mm

125

60

Sausages, sheath is impermeable, ø22-24 mm

200

45

Semi-smoked sausage, sheath permeable, ø45-55 mm
Secondary smoking

200

90
240

Semi-smoked sausage, casing shell, ø38-42 mm
Secondary smoking

180

90
120

Meat delicacies

Pork neck

200

240

Carbonad

180

150

Breast

180

150

Pork ham

200

240

Beef fillets

180

240

Edge

60-100

150-170

Poultry

Carcase

160

120

Half-Carcase

180

120

Fourth-Carcase

200

100

Hock

200

90

Hip

220

70

Wing

180

50
Delivery package
#

Equipment, materials, documentation:

Amount

1

The universal heat chamber for 1-4 Euroframe, consisting of:

1 set.

1.01

The universal heat chamber 1-4 Euroframe
ASC

1 pc.

1.02

External stainless steel evaporator. It can work as a supply and closed version. Ideal for meat.

1 pc.

1.03

Closed type smoke generator
DG

1 pc.

1.04

The system of individual ventilation, full set

1 set.

1.05

The control cabinet
SHU

1 pc.

1.06

Integrated cleaning system for connection to a foam generator

1 set.

1.07

The pneumatic foam generator

1 set.

1.08

Spare parts and components

1 set.

1.09

Cleaning fluid (concentrate)

30 L.

1.10

Technological wood chips (alder)

200 kg

1.11

The passport of the product and the operating instructions (full set)

1 set.
Smoke generator DGSCH-100A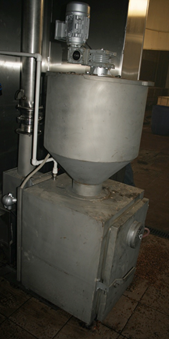 designed to produce smoke-air mixture and feeding it into the chamber in the process of smoked products in automatic mode
closed type 304 stainless steel
to use chips from non-resinous types of wood and their mixtures
moisture of wood chips is not limited (natural)
recommended fraction of wood chips is 4-20 mm (extended range)
filling of the chamber with smoke to a working concentration of 2-3 min
automatic feeding wood chips with adjustable dosage
automatic electric ignition of the wood chips
automatic attenuation of smoldering wood chips
air flow into the zone of "smoldering" through the closing valve and fine adjustment of the device for metered flow:
– Stabilization of the smoke formation
– The maximum reduction in the likelihood of fire chip
Automatic air control valve (stroke is adjustable and fixed) in the area of "smoke intake" smoke generator:
– Adjusts the density of smoke
– Reduction of the smoke temperature at the outlet of the smoke generator to 40 ° C
– Reducing the gumming in the area of "smoke intake"
resin separation unit with the withdrawal of the resin concentrate via a water seal
automatic smoke temperature control at output of the smoke generator with the display of parameters on the processor's display, wherein:
– Alarm exceeding of the specified smoke temperature
– Automatic extinguishing of wood chips in smoke generator when exceeding a predetermined temperature of the smoke
integrated nozzle for washing in the area of "smoke intake" and resin separation unit
sliding valve cut-off wood chips before to sanitation of smoke generator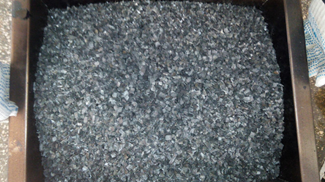 approximate consumption of wood chips in the mode of active smoking – 3 kg/h
The photo on the right shows the degree of combustion of wood chips. Efficiency – 100%
The control panel iMAX 500
Provides comprehensive, automatic control and regulation of the heat chamber on individual technology programs.
The parameters are constantly shown on the display:
– the temperature inside the chamber
– the temperature inside the product
– relative air humidity in the chamber
– working out time of technological steps (elapsed time)
The control panel is connected to a personal computer via the MRS program to control all the processes of the chamber and the ability to print charts.
Technical characteristics of the automatic smoke chambers ASC 1-4
Installation type ASC-GC or HC

1

2

3

4

Number of frames 1х1х2 m., pcs.

1

2

3

4

Max. Loading, kg (diameter 55 Polyamide))

350

700

1050

1400

Width       A (mm)
B (mm) – sawdust smoke generator
B (mm) – friction smoke generator

 1500
2200
2000

 1500
2200
2000

 1500
2200
2000

 1500
2200
2000

Depth       C (mm)
D (mm)

1280
1350

2380
2450

3480
3550

4580
4650

Height      E (mm)
F (mm)

2700
3000

2700
3000

2700
3000

2700
3000

Chamber weight, kg

1200

1800

2500

3600

Chamber power with electric heating, kW (without the smoke generator)

35,7

71

106,1

141,3

Electric power of the chamber with steam heating, kW

3,1

5,9

8,7

11,5

Electric power of the chamber with gas heating, kW

3,4

6,3

9

11,8

The installed capacity of the smoke generator, kW:
Sawdust
friction

1
5,5

1
5,5

1
5,5

1
5,5

Compressed air pressure, Bar (min)

5

5

5

5

Compressed air consumption, l/h

13

14

15

16

Water pressure, Bar (min)

2

2

2

2

Water consumption during cooking, l / h

10

20

30

40

Steam pressure, Bar (min)

5

5

5

5

Steam consumption, kg/h

60

120

180

240

Gas supply, mBar

10

10

10

10

Gas consumption, m3 per hour / frame (averaged value)

4,6

7,5

11,25

15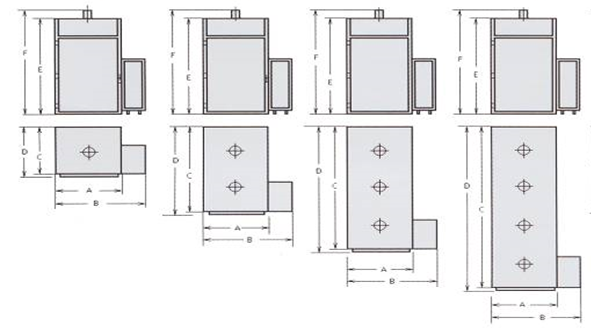 External evaporator for cold smoking systems
Due to the powerful external evaporator the opportunity to work with a humidity of 55% inside the smoking chamber and a temperature of up to 16 -18 ° C. Fast and efficient dehumidification and cooling of the products. Own production of evaporators and all nodes – complete quality control. In the photo on the right. Especially this evaporator operates effectively in the summer when the ambient temperature in the area about 30 ° C. But in the chamber is cold and dry air. Fast drying and smoking.
The built-in washing system with the foam generator or foam station
foam generator – 24 l.
mode "steaming chamber" before washing
filling foam generator and adjusting it to a concentration of the washing liquid in manual mode
4 groups of built-in nozzles to supply the cleaning solution (washing, fan assemblies, valve, chimneys, air ducts and smoke generator)
switching each group of nozzles for supplying washing liquid
switching each group of nozzles for supplying water when washing the chamber after dissolution of the resin in the foam composition
application of foam when washing open inner surfaces of the internal chamber with the spray of foam generator
partial lock of open door when draining water after washing out of the chamber
Requirements for premises
ceiling height – no less than 330 cm
slope of the flooring under the base of the heat chamber, not more than 2% (1 cm at 1 meter of the floor)
floors are made on the construction job in the workshop of the tray sewerage
considered supply and exhaust ventilation of premises, including:
– the performance of the forced ventilation system chambers – 4000 m3 / h
– operating time of the ventilation system chamber, the average cycle of the product – 30%
the required mounting aperture:
– when the supply of heat chambers in ready implementation – 160 x 280 (h) cm
– when the supply of heat chambers in mounting blocks – 135 x 160 (h) cm
5.1 The control panel Mikster 1000
Optional touch panel Mikster Poland in 1000 (pictured below). More convenient, ergonomic and efficient. Which displays all the processes occurring in the chamber + easy visual perception of the process in graphs. + output to a personal computer on every panel.
up to 99 programs at any time may enter, change, save
up to 99 process steps in each program

Would you like to speak to one of our advisers? Just submit your details and we'll be in touch shortly. You can also email us if you would prefer.
For Businesses: Do you have questions about how RZPO can help your company? Send us an email and we'll get in touch shortly, or phone +8(835)10001246977 between 09:00-23:00 +3 GMT  Monday to Sunday — we would be delighted to speak (by phone English, Russian, Bulgarian languages).
Note: Your details are kept strictly confidential as per our Privacy Policy.
Summary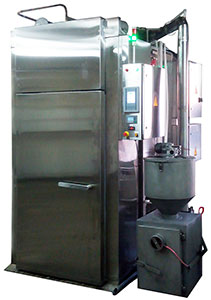 Brand Name
Product Name
Meat Smoking Chambers for COLD and HOT smoking (PREMIUM package)