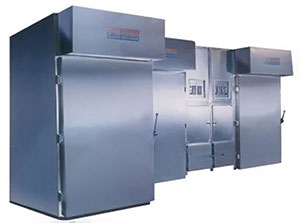 Smoking chambers for meat smoking, drying and heat treatment.
Smokehouse cooking chambers (hereinafter simply smoking chambers) are intended for smoking, drying and heat treatment of food products according to user-defined technologies entered into the memory of the controlling computer. Scope of smoking chambers – production of fish, meat, cheese and other products requiring heat treatment
Purpose of universal smoking chambers.
Smoking chambers DUCOMASTER are designed for smoking, drying and heat treatment of food products according to the specified technologies entered in the memory of the control system. DUCOMASTER smokers with the highest efficiency perform such technological processes as: roasting, drying, hot and cold smoking, smoking at a given humidity, and cooking the product with minimal weight loss and ensuring a high stable quality of the product.
Scope of smoking chambers – the production of meat products, fish products and other food products, the technology of which includes any combination of heat treatment.
Efficiency and reliability of operation of smoking chambers DUCOMASTER
Constructive solutions and reliability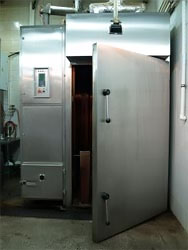 Efficiency and reliability of smoking chambers is conditioned by the use of first-class German materials and components. The design of the chambers (all-welded or modular), made entirely of stainless steel, provides high strength and tightness. Thermally insulated walls allow maximum energy savings in the operation of DUCOMASTER units. Stability of the operation of the actuators of the chambers is the result of the use of the pneumatic drive system. Individual approach to each client makes it possible to place and install DUCOMASTER installations taking into account the conditions and features of the company's layout. The serial model includes an automatic washing chamber. Loading is carried out on standard floor or suspended frames.
Chamber heating
The temperature range in the DUCOMASTER series smoke cooker is up to 150 ° C.
High productivity, minimum technological losses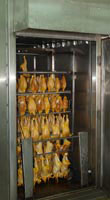 Smoking chambers DUCOMASTER are equipped with a smoke circulation system – SMOKE, which allows smoking both in closed and in flow mode. The choice of the smoking mode is made automatically by the control system according to the parameter of the specified permissible humidity. A feature of this principle of smoke supply is the preservation of a high percentage of output of finished products with intensive smoking, as well as the acceleration of the smoking process itself.
Norms of output of meat products
| | | | |
| --- | --- | --- | --- |
| Product name DUCOMASTER | Loading per frame, kg | Loss on heat treatment,% | Out of the chamber after cooling, kg |
| Cooked (60mm polyamide) | 350 | 0 | 350 |
| Sardines (pork cake) | 130 | 6 – 8 | 120- 123 |
| Semi-smoked (45mm belkosin) | 240 | 6 | 225 |
| Sausages (22mm polyamide) | 180 | 0 | 180 |
| Natural smoked products | 240 | 12 | 211 |
Program management – a stable indicator of product quality
The DUCOMASTER smoke chamber control system is a constant and complete control of the process parameters with the output of information on the display, as well as on the personal computer of the technologist.
40 programs of 30 technological steps each and temperature control in the center of the product allow creating optimal heat treatment modes in combination with uniform circulation of airflow in the chamber, ensuring uniform treatment of the product. The parameters specified in the programming process are as follows:
the name of the process;
duration of the process;
temperature inside the chamber;
temperature inside the product;
Δ t sparing mode of heat treatment.
The difference in temperature within the product is not more than 1 deg. C.
Self-programming of the DUCOMASTER smoking chamber control system does not cause difficulties and does not require special special skills or knowledge.
Humidity control is carried out by sensors installed inside the DUCOMASTER chamber.
The control system also provides an automatic washing mode.
Smoke Generators
Universal smoking installations DUCOMASTER are equipped with a choice of two types of smoke generators: sawdust or friction.
Practical advantages and advantages of smoking chambers:
Friction smoke generator
low temperature of smoke formation. The generated smoke is finely divided and has a temperature of 3oC above ambient temperature. Since the temperature of the smoke obtained in this way is much lower than the smoke temperature during smoldering – ideal conditions for cold smoking are created
Sawmill smoke generator
concentration and intensity of smoke
unpretentiousness to the size of fractions and the kind of sawdust used (except – resinous wood species, sawdust dust)
reduction of smoking time
Golden color and appetizing aroma products
The layout of DUCOMASTER thermal chambers

Characteristics of the automatic smoke chambers 
Type of smoking chamber DUCOMASTER
2500
5000
7500
10000
10000В
Number of frames 1х1х2 m., pcs.
1
2
3
4
4
Max. Loading, kg (diameter 55 Polyamide))
350
700
1050
1400
1400
Width       A (mm)
B (mm) – sawdust smoke generator
B (mm) — friction smoke generator
 1500
2200
2000
 1500
2200
2000
 1500
2200
2000
 1500
2200
2000
 3000
3500
3700
Depth       C (mm)
D (mm)
1280
1350
2380
2450
3480
3550
4580
4650
2380
2450
Height      E (mm)
F (mm)
2700
3000
2700
3000
2700
3000
2700
3000
2700
3000
Chamber weight, kg
1200
1800
2500
3600
Chamber power with electric heating, kW (without the smoke generator)
35,7
71
106,1
141,3
141,3
Electric power of the chamber with steam heating, kW
3,1
5,9
8,7
11,5
11,5
Electric power of the chamber with gas heating, kW
3,4
6,3
9
11,8
11,8
The installed capacity of the smoke generator, kW:
Sawdust
friction
1
5,5
1
5,5
1
5,5
1
5,5
1
5,5
Compressed air pressure, Bar (min)
5
5
5
5
5
Compressed air consumption, l/h
13
14
15
16
16
Water pressure, Bar (min)
2
2
2
2
2
Water consumption during cooking, l / h
10
20
30
40
40
Steam pressure, Bar (min)
5
5
5
5
5
Steam consumption, kg/h
60
120
180
240
240
Gas supply, mBar
10
10
10
10
10
Gas consumption, m3 per hour / frame (averaged value)
4,6
7,5
11,25
15
15
Rotational speed of the fan impeller, rpm

1500/3000

Productivity of the impeller, m³ / h
4100х1
4100х2
4100х3
4100х4
4100х4
Optimum range of chip fraction, mm
3-6
3-6
3-6
3-6
3-6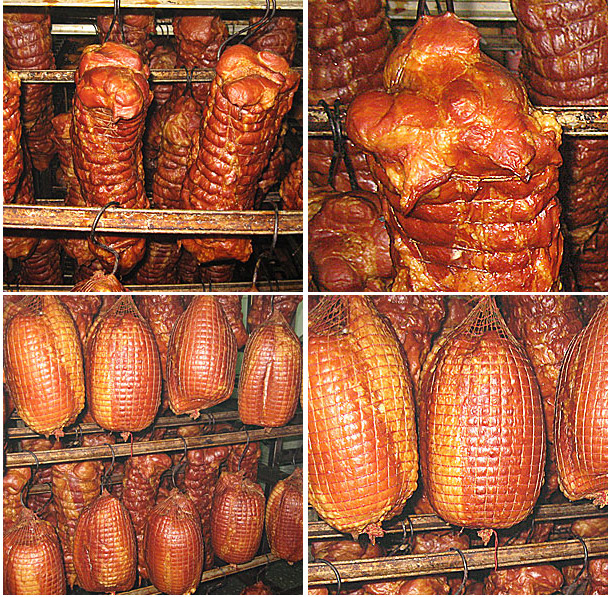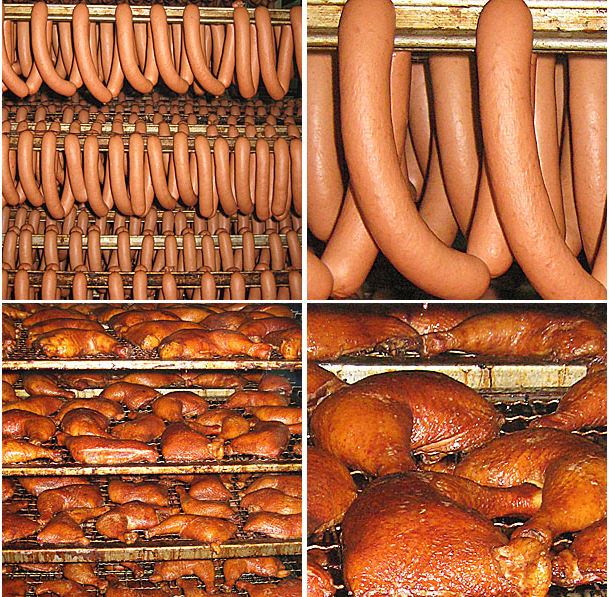 Would you like to speak to one of our advisers? Just submit your details and we'll be in touch shortly. You can also email us if you would prefer.
For Businesses: Do you have questions about how RZPO can help your company? Send us an email and we'll get in touch shortly, or phone +8(835)10001246977 between 09:00-23:00 +3 GMT  Monday to Sunday — we would be delighted to speak (by phone English, Russian, Bulgarian languages).
Note: Your details are kept strictly confidential as per our Privacy Policy.
Summary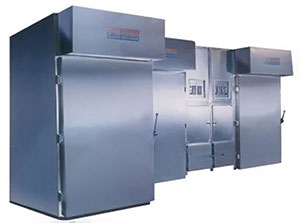 Brand Name
Product Name
Meat Smoking chambers DUCOMASTER