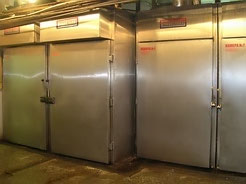 Roasting chambers.
By design, the fryer chamber is similar to the standard smoke-cooking chamber, the difference is that it is designed to operate at temperatures up to 200 ° C. In addition, it has a double thermal insulation, consisting of mineral wool up to 80 mm thick. The chamber uses high-temperature components and materials designed for operation at temperatures up to 3000C.
The roasting  camera consists of:
Thermal chambers,
The engine and the main fan, where the task of the fan is forced air circulation. In turn, the engine is located in a special way to avoid accidents, coupled with the heating elements created by a very high temperature. The head design is also adapted to work under the same conditions.
The source of heat, which, like in a standard chamber, consists of a set of electric heaters located in the working chamber.
The ventilation and exhaust system located above the working chamber.
The camera is controlled by the Russified microprocessor controller MP1000, which allows controlling all heat treatment processes. Up to 80 different processing methods can be programmed.
The following technological processes are carried out in the fryer chamber:
dry roasting
frying with moisturizing
overheating with drying
During all processes, the set temperature is maintained by the operation of the heating elements and the thermal control
Would you like to speak to one of our advisers? Just submit your details and we'll be in touch shortly. You can also email us if you would prefer.
For Businesses: Do you have questions about how RZPO can help your company? Send us an email and we'll get in touch shortly, or phone +8(835)10001246977 between 09:00-23:00 +3 GMT  Monday to Sunday — we would be delighted to speak (by phone English, Russian, Bulgarian languages).
Note: Your details are kept strictly confidential as per our Privacy Policy.
Summary