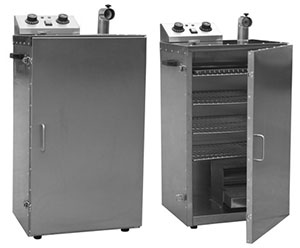 Compact meat smoking chambers.
We bring to your attention new compact smoking chambers (South Korea). These smoking chambers are intended for hot smoking of meat and fish products, poultry, vegetables, seafood and cheeses. This compact thermal equipment can be used in meat processing plants, catering companies, canteens, cafes, hotels and home use. The minimum load is 15kg, the maximum is 50kg. All models are made of high quality stainless steel.
The model range of smoking chambers consists of 2 options: with an electromechanical control panel. The temperature inside the chamber is controlled by a thermostat and can be regulated from 30 to 135 ° C. For convenience, the temperature in the chamber can be monitored according to the thermometer. All cameras are compact in size, which allows them to be placed on a limited area, and the 220V used voltage allows you to connect to an affordable power source without problems.
Characteristics of Meat smoking equipment.
| | | | | |
| --- | --- | --- | --- | --- |
| Model | Dimensions | Weight, kg | Load, kg | Technical characteristics |
| DSH-S03 | 450*400*870 mm | 33 | 15 | stainless steel, 220W/50Hz |
| DSH-S03L | 520*470*1230 mm | 53 | 50 | stainless steel, 220W/50Hz |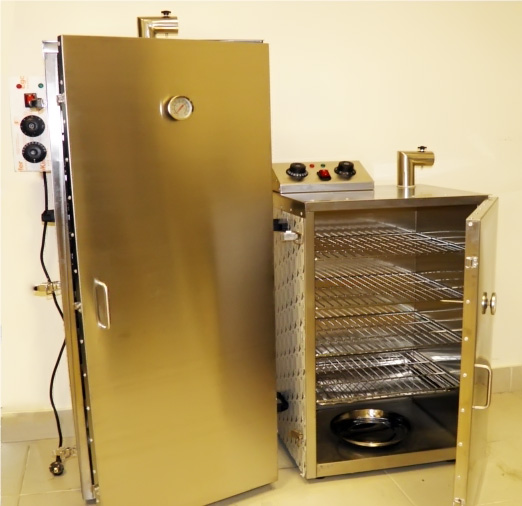 Would you like to speak to one of our advisers? Just submit your details and we'll be in touch shortly. You can also email us if you would prefer.
For Businesses: Do you have questions about how RZPO can help your company? Send us an email and we'll get in touch shortly, or phone +8(835)10001246977 between 09:00-23:00 +3 GMT  Monday to Sunday — we would be delighted to speak (by phone English, Russian, Bulgarian languages).
Note: Your details are kept strictly confidential as per our Privacy Policy.
Summary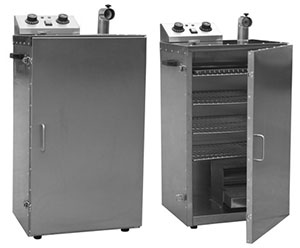 Brand Name
Product Name
Small Meat smoking equipment