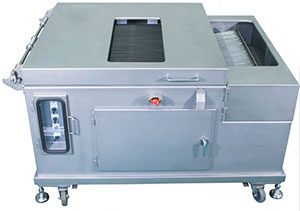 Multi Knife Slicer (large size).
The machine is designed to cut salmon fillets, pink salmon, chum salmon or other large fish.
Due to the design of the machine, the cutting of the product takes place without damage and jamming, and the slicer remains clean.
The minimum thickness of the cut piece is 4 mm. The cutting angle can be set at the factory in the range of 22-70 degrees.
Maximum fillet length 520 mm. The width of the receiving tray 250 mm.
Huge performance compared with European counterparts.
It has no waste, as on European counterparts.
The cutting device of the machine has a long service life.
The machine is suitable for large specialty restaurants and large industries.

Characteristics of Multi Knife Slicer MKS-900
| | | | |
| --- | --- | --- | --- |
| Power characteristics | Dimensions: length x width x height, mm; (Weight, kg) | Productivity, pieces / min. | Processing object (type of fish) |
| 3P x 380Vx0,2KW(1), 0.4KW(2) | 1100Lx1400Wx900H (520kg) | 5-6 | Fillet of any fish, salmon, squid, meat is fresh, smoked, etc. |
Automatic slicer for cutting fish and seafood
This machine is designed for cutting fish and seafood not of large sizes into thin plastics. On the working surface of the machine lay the product, which must be cut into thin plastics (slices). After that you need to turn on the machine, then the machine will do everything automatically. After the machine has made the cutting, the product can be immediately laid on the substrate and evacuated. The cutting thickness must be selected before ordering the equipment.
Would you like to speak to one of our advisers? Just submit your details and we'll be in touch shortly. You can also email us if you would prefer.
For Businesses: Do you have questions about how RZPO can help your company? Send us an email and we'll get in touch shortly, or phone +8(835)10001246977 between 09:00-23:00 +3 GMT  Monday to Sunday — we would be delighted to speak (by phone English, Russian, Bulgarian languages).
Note: Your details are kept strictly confidential as per our Privacy Policy.
Summary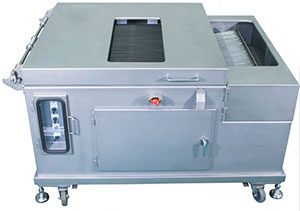 Brand Name
Product Name
Multi Knife Slicer MKS-900