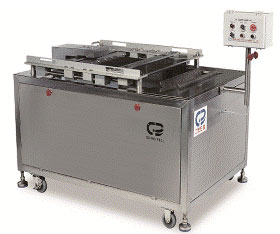 Fish slicer. Electric food slicer.
Large automatic slicer Designed for slicing processed foods such as large herring, boiled meat, smoked meat, smoked duck meat and so on.
The automatic slicer can not cut the dorsal bone of the fish – only the flesh. Recommended for large volumes of production. Helps maintain freshness and simplifies the processing of products: meat, seafood, smoked products – because they can be cut into oblique or even slices in fresh condition.
Slicer for cutting the whole fish into pieces of the same width. The width of the cut pieces can be changed by installing sets of knives with different spacing between the knives.
Cutting occurs automatically after the product is placed on the tray.
Capabilities of slicer
Easy to operate, safe and easy to use.
Cutting is done with a stainless steel knife with special heat treatment.
Does not require cleaning and replacing blades.
GB slicer guarantees maximum productivity, safety of work, saving time and money.
You can use different types of fish, such as: perch, tuna, halibut, salmon, etc.
Angle of cutting: 45 degrees (maybe 30/90 degrees, straight cut – on request)
Cutting thickness: 8 mm (other – on request).
The length of the working area (fillet tab): 190 * 600 * 60 (W * D * H, mm)
Automatic gripping, cutting and unloading of the product.
Productivity: 40-50 fillets (for example, mackerel) / min.
* Additional set of knives – on request.
Characteristics of BIG size SLICER for cutting.
| | | |
| --- | --- | --- |
| Dimensions (L * W * H) | mm | 1480*980*1400 |
| Weight | kg | 250 |
| Material | Stainless steel | |
| Power supply | V / Hz / F | 220/380/50/60/3 |
| Engine power | kW | 1,5 |
| The dimensions of the treatment product (L * W * B) | mm | 120*580*40 |
| Cutting angle * | Degree | 30-70 |
| Cutting thickness * | mm | From 3.0 |
Video of Salmon fillet and slicing with automatic slicer for fish
Video of cutting meat with automatic slicer for meat
Would you like to speak to one of our advisers? Just submit your details and we'll be in touch shortly. You can also email us if you would prefer.
For Businesses: Do you have questions about how RZPO can help your company? Send us an email and we'll get in touch shortly, or phone +8(835)10001246977 between 09:00-23:00 +3 GMT  Monday to Sunday — we would be delighted to speak (by phone English, Russian, Bulgarian languages).
Note: Your details are kept strictly confidential as per our Privacy Policy.
Summary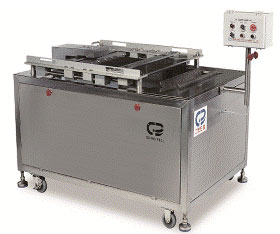 Brand Name
Product Name
Large automatic slicer LAS-5