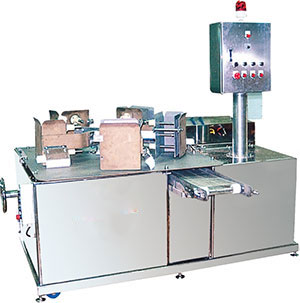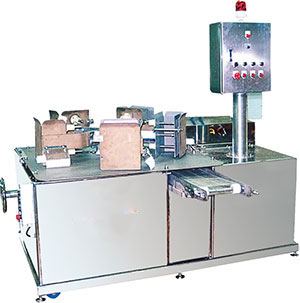 Machine for cutting small blocks of meat or fish
The machine has a high level of productivity, because cutting process is carried out by chopping.
The machine is easy to operate and provides high performance, regardless of the level of personnel training.
High quality of the machine ensures consistently high quality of the product.
The machine is fully automated and meets the highest sanitary and hygienic standards.
The width of the cut can be adjusted, and it is also possible to make shaped cuts of pieces.
Rib cutting machine (abdominal part).

Characteristics of Meat cutting machine FCM-5.
Power characteristics
Dimensions: length x width x height, mm; (Weight, kg)
Performance, kg / hour
Cutting width

380 x 60Hz x 2,2KW
380 x 60Hz x 0,75KW

2100L x 1200W x 1600H (700kg)

180

3mm.~15mm.
Video of the Short Rib Cutting Machine CHKBC-5:
Would you like to speak to one of our advisers? Just submit your details and we'll be in touch shortly. You can also email us if you would prefer.
For Businesses: Do you have questions about how RZPO can help your company? Send us an email and we'll get in touch shortly, or phone +8(835)10001246977 between 09:00-23:00 +3 GMT  Monday to Sunday — we would be delighted to speak (by phone English, Russian, Bulgarian languages).
Note: Your details are kept strictly confidential as per our Privacy Policy.
Summary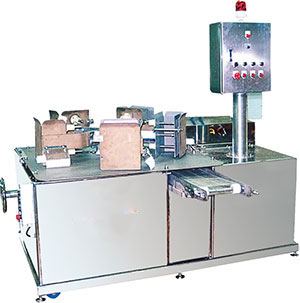 Brand Name
Product Name
Short Rib Meat and Fish Cutting Machine FCM-5