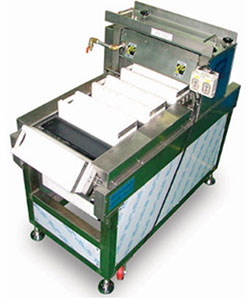 Slicer for fish. Electric slicer
Slicers for cutting whole fish into pieces of the same width.
The width of the cut pieces can be changed by installing sets of knives with different spacing between the knives.
Cutting in Slicer is automatic after placing the product on the tray.
Slicers are designed for thin cutting of various types of fish. Slicers for slicing are used in hot, cold, meat, fish shops of professional cuisine.
Characteristics of Electric slicer for fish.
| | |
| --- | --- |
| Productivity, kg / hour | 40-60 |
| Power, kWt | 3 |
| Cutting width, mm | 40,50,60 |
| Weight, kg | 350 |
| Overall dimensions, mm | 2500×750×1300 |
Characteristics of a slicer
The two most important technical characteristics of a slicer for cutting are the diameter of the knife and the regulator of the cutting thickness, since the size and thickness of the cut pieces depend on them. It is interesting to note that modern manufacturers are developing special models of slicers designed for specific products: for example, there are cheese, bread, fish slicers. Cheese slicers differ from the usual ones by the presence of Teflon coating on the knives, which is necessary to ensure that the cheese of soft varieties does not adhere to the metal and the slices have smooth edges. Bread slicers are equipped with a special blade with small teeth at the edges – this is necessary so that the bread does not crumble (remember that the blades of special kitchen knives intended for cutting bread look the same). Slicers for fish have a special floating carriage, allowing you to lift the piece against the knife at a slight angle.
Would you like to speak to one of our advisers? Just submit your details and we'll be in touch shortly. You can also email us if you would prefer.
For Businesses: Do you have questions about how RZPO can help your company? Send us an email and we'll get in touch shortly, or phone +8(835)10001246977 between 09:00-23:00 +3 GMT  Monday to Sunday — we would be delighted to speak (by phone English, Russian, Bulgarian languages).
Note: Your details are kept strictly confidential as per our Privacy Policy.
Summary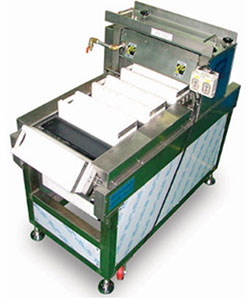 Brand Name
Product Name
Electric Slicer for slicing unrefined fish ESF-7