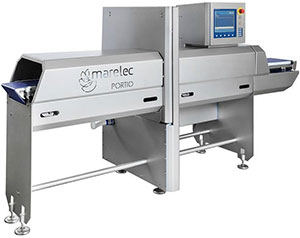 Slicer for portioning of fixed weight or specified thickness
The order of operation of the slicer MARELEC PORTIO:
The product for cutting is placed on the receiving conveyor.
The product entering the machine passes through the scanning chamber and a command to the knife is fed through the computer.
The knife, synchronizing with the speed of the conveyor, cuts the product into equal parts by weight or thickness.


Purpose:

Automatic slicer MARELEC PORTIO 1 F is designed for cutting into equal in weight (portioning) or serving a portion of fish fillets, whole fish, meat and poultry (without bone).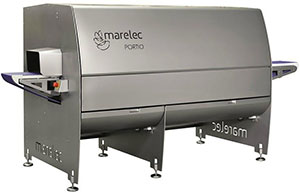 Features of the model MARELEC PORTIO:
Calibration with pre-programming allows you to switch the product processing settings in seconds.
Special programs provide high flexibility of the parting solutions, always taking the right decision before cutting.
The portioning machine can be adjusted using the control panel with a color screen at any time during the cutting process, which improves the results.
The modular ribbon combines an ideal synchronization with an unmatched lifetime. Automatic tape stretch compensation guarantees accuracy over long years when working with the same tape.
The latest laser display technology with a 400 Hz camera provides an incomparable quality.
A laser chamber for flat products such as fillets is designed and manufactured in accordance with the most stringent hygiene standards.
The CIP system (cleaning on site) ensures a quick cleaning of the belts and guide knives.
Technical characteristics MARELEC PORTIO:
Cutting a fixed weight, a fixed thickness or a combination of variable weight and thickness.
Maximum product sizes: up to 950 mm (depending on cutting program) x 240 mm x 120 mm (LWH)
Cutting speed: up to 17 cuts / second. Depending on the type of knife and product
Accuracy (fish and poultry): 1.5 grams standard batching error <150 g 1.5% of serving weight per serving> 150
Belt width: 254 mm
Belt speed: adjustable: from 40 to 450 mm per second
Fully waterproof design
Cleaning with a local tape and knife system, with manual control
International menu
Video of the Slicer MARELEC PORTIO. Sliced salmon fillet for portioned pieces:
Video of the Slicer MARELEC PORTIO. Cut a whole salmon into steaks of a given weight.:
Video of the Fish & meat Slicer. The portioning line based on the injector and slicer Portio 1:
Video of the Fish & meat Slicer. Portion cutting of white fish with a slicer Portio 1:
Would you like to speak to one of our advisers? Just submit your details and we'll be in touch shortly. You can also email us if you would prefer.
For Businesses: Do you have questions about how RZPO can help your company? Send us an email and we'll get in touch shortly, or phone +8(835)10001246977 between 09:00-23:00 +3 GMT  Monday to Sunday — we would be delighted to speak (by phone English, Russian, Bulgarian languages).
Note: Your details are kept strictly confidential as per our Privacy Policy.
Summary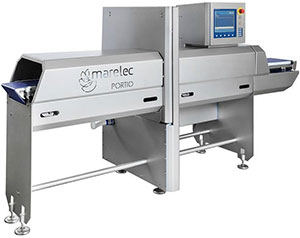 Brand Name
Product Name
Fish and meat Slicer MARELEC PORTIO