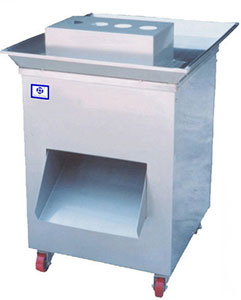 Meat slicer. Electric food slicer.
This electric slicer is specially designed for various food industries for cutting large volumes of products from 1000kg to 1500kg. The Slicer is productively designed, has a massive frame, large blades in diameter, a wide loading opening and a host of other advantages, is simple, reliable and economical in operation.
Such a slicer can be used for cutting various fish and meat products. Slicer is made of stainless steel, suitable for use with food, the blade is made of chrome-plated hardened steel. In this machine, the knife pitch is adjustable: 4, 5 and 15 mm.

Characteristics of BIG size SLICER for cutting.
Specifications
Productivity, kg / hour
1500
Thickness of cutting, mm
4,5,15
Width of feed opening, mm
290
Dimensions of a disk knife, mm
Ф143 Х 1,5
Dimensions of the knife block, mm
310 Х 530 Х 180
Power supply, V (Hz)
380 (50)
Power consumption, kW
1,5
Overall dimensions, mm
800 Х 650 Х 930
Weight, kg
100
Characteristics of COMPACT size SLICER for cutting.
This small machine with a capacity of 250-500 kg / h will easily cut into straws, stripes, cubes like pork bacon, and jerky, as well as various kinds of fish.
Specifications
Productivity, kg / hour
250-500
Power supply, V
220
Thickness of cutting, mm
2.5, 3, 5
Overall dimensions, mm
450*320*430
Weight, kg
33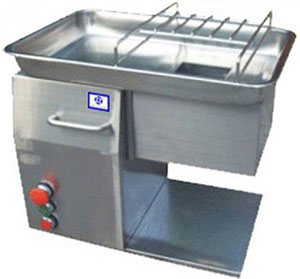 Would you like to speak to one of our advisers? Just submit your details and we'll be in touch shortly. You can also email us if you would prefer.
For Businesses: Do you have questions about how RZPO can help your company? Send us an email and we'll get in touch shortly, or phone +8(835)10001246977 between 09:00-23:00 +3 GMT  Monday to Sunday — we would be delighted to speak (by phone English, Russian, Bulgarian languages).
Note: Your details are kept strictly confidential as per our Privacy Policy.
Summary