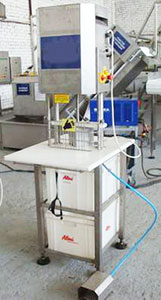 Gutting equipment.
The machine is designed for separating the heads of cod, salmon and bottom breeds of fish of any size with a guillotine knife driven by an electric motor-reducer.
Low power consumption (the energy consumption of a compressed airhead compressor of the same capacity is 6 kW / h).
It does not require a compressor or a pneumatic circuit.
Can work as an independent unit or be integrated into any technological line.
The head is equipped with a special pneumatic pedal, which is absolutely protected from water.
Technical data:
Productivity * 40 … 45 fishes / min
The sizes of the fish being processed are 300 … 800 mm
Power consumption 0.55 kW
Number of attendants 1
Dimensions, length x width x height 725x700x1980 mm
Weight 60 kg* – theoretical performance is given, determined by the possible frequency of the knife movement. The actual performance depends on the organization of the workplace and the skills of the operator.
Would you like to speak to one of our advisers? Just submit your details and we'll be in touch shortly. You can also email us if you would prefer.
For Businesses: Do you have questions about how RZPO can help your company? Send us an email and we'll get in touch shortly, or phone +8(835)10001246977 between 09:00-23:00 +3 GMT  Monday to Sunday — we would be delighted to speak (by phone English, Russian, Bulgarian languages).
Note: Your details are kept strictly confidential as per our Privacy Policy.
Summary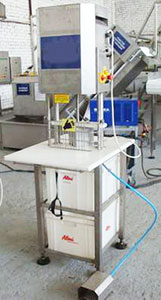 Brand Name
Product Name
Electric Gutting Machine (single)